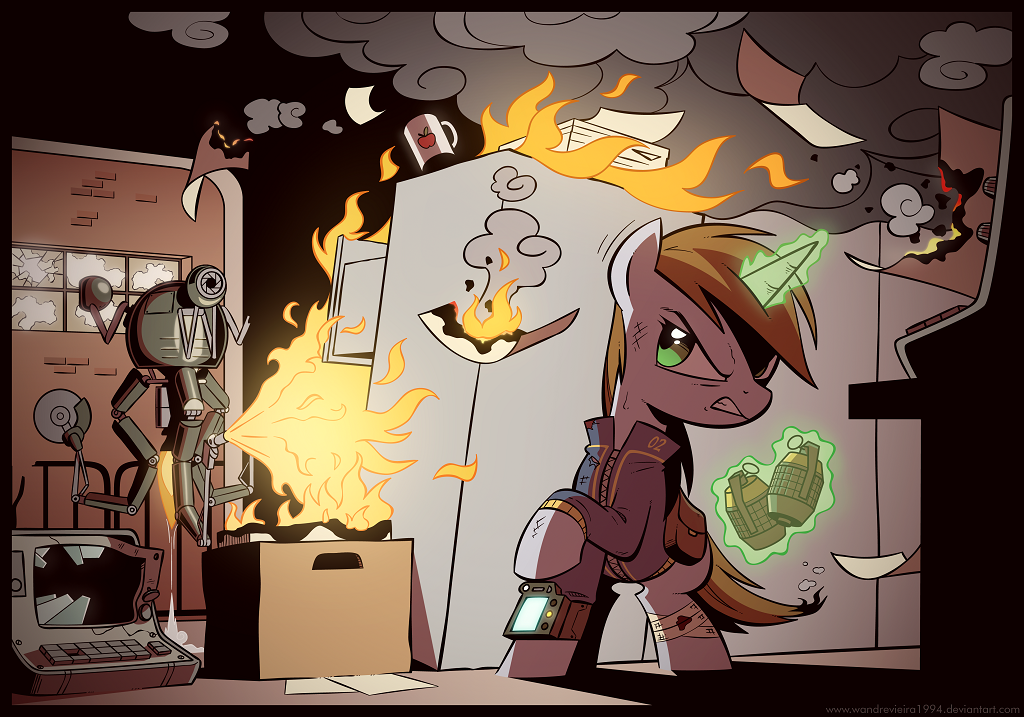 Sealevel
(中英对照)代号向日葵∶谐波计划(全篇机翻)
Chapter 07: Gifts from Earth, part 2第七章:来自地球的礼物2
关于本章
chrome_reader_mode 共 52,725 字
event 于 5 天前 发表
visibility 共 26 人读过
forum 共 1 条评论
~~*Fluttershy*~~ ~ ~ * Fluttershy * ~ ~
The sun was shining and the air was sweet on this perfect, sunny day. Well, it was an almost perfect day. That was only because, in addition to the humming of insects, the songs of the birds and the sighing of the breeze, there was a persistent voice coming from an annoyed white unicorn.
在这个完美的、阳光明媚的日子里,阳光灿烂,空气甜美。那几乎是完美的一天。这只是因为,除了昆虫的嗡嗡声、鸟儿的鸣叫声和微风的叹息声外,还有一个烦人的白色独角兽发出的持续的声音。
"I'm sorry, darling, but that simply doesn't make any sense."
"对不起,亲爱的,但那根本说不通。"
Fluttershy could tell that Rarity was a little bit upset, since she didn't even seem to be aware of the fact that her brow was furrowing and that her mouth was turning down at the corners right then. It was a sure sign of her agitation, since her unicorn friend ordinarily tried to avoid frowning so as to prevent frown lines from appearing.
"飞飞"看得出来,稀罕有点心烦意乱,因为她似乎根本没有意识到自己的额头上有皱纹,嘴角上也没有任何表情。这确实是她激动的迹象,因为她的独角兽朋友通常尽量避免皱眉,以免出现皱纹。
"It does, though," Fluttershy said as she moved over to a hanging bird-feeder. After a small hoofful of seed and a smile at the resident bluejay family, she continued talking. "If I take money from you, then I'm actually getting a feather-care kit and bits from everypony. It's not right. The money should go to Erin, since it was supposed to be a gift for her in the first place."
"不过,它确实是。"她走到一个悬挂着的喂鸟器前,拍着翅膀说。吃了一小口种子后,她对住在这里的蓝鸦一家微笑了一下,然后继续说话。"如果我从你这里拿钱,那么我实际上就会从每匹小马那里得到一个羽毛护理包和一些东西。它是不正确的。这笔钱应该给艾琳,因为本来应该是给她的礼物。"
"You can't afford it, though, can you?"
"不过,你负担不起,是吗?"
Fluttershy flinched. Trust Rarity to get right to the awful heart of the matter. "I'll be okay," she said softly. "I have money saved up."
Fluttershy退缩。相信稀缺性能够直接触及问题的核心。"我会没事的,"她轻声说。"我存了一些钱。"
Money that was meant for medicines and medical supplies. But Fluttershy could make it up. After all, grass was free. She didn't actually need to buy food for herself when her entire front yard was a feast.
用于购买药品和医疗用品的钱。但抖动可以弥补。毕竟,草是自由的。当她的整个前院都是盛宴时,她实际上不需要为自己买食物。
Not a particularly nice feast, but still, it wasn't like she'd starve, and her animal friends would still get the care they needed. So, everypony would win, which was really the best way.
这并不是一顿特别丰盛的大餐,但是,这并不意味着她会饿死,她的动物朋友们仍然可以得到他们所需要的照顾。所以,每个小马都会赢,这真的是最好的方法。
Of course, she'd have to cut back on the weekly spa trips with Rarity for a while. Just until she got caught up on her expenses. She dropped some chopped carrots in front of a rabbit burrow and then fidgeted with her front hooves for a while, already trying to come up with believable excuses that Rarity would accept for her missing out on their regular spa dates.
当然,在一段时间内,她必须减少每周一次的水疗旅行。直到她的开销被追上。她把一些切碎的胡萝卜丢在一个兔子洞前,然后摆弄着前腿,想了一会儿,试图找到一些可信的借口,让自己错过常规的水疗约会。
It would be difficult. Rarity was a sharp one. Not as book-smart as Twilight, but much more observant than anypony she knew. Well, anypony but Pinkie Pie on the rare occasion that she could actually focus.
这将是困难的。稀有是一种锐利的特征。虽然不如《暮光之城》聪明,但却比她认识的任何小马都更善于观察。好吧,除了小指,任何小马都可以在极少数情况下集中注意力。
Fluttershy sighed. No, lying wouldn't do. She knew from past experience that she was a terrible liar, and the guilt would simply eat her alive. Better to simply tell Rarity that she couldn't afford spa trips for a little while. It meant that Rarity would keep on asking her to accept money for the Feathermaster kit, but it was something she would simply have to—
Fluttershy叹了口气。不,撒谎是不行的。她从过去的经验中知道,她是一个可怕的说谎者,内疚只会把她活生生地吃掉。最好是简单地告诉稀缺,她负担不起一段时间的水疗旅行。这意味着,稀罕会不断地要求她接受羽毛大师工具包的钱,但这是她必须要做的事情——
Rarity's sharply raised voice broke into her reverie. "Fluttershy!"
稀世突然提高了嗓门,打断了她的沉思。"Fluttershy !"
Fluttershy squeaked and flinched, her wings flaring defensively. After a moment of panicked hyperventilation she managed to say, "Yes?"
颤抖,尖叫,畏缩,她的翅膀展开防御。她惊慌失措地喘了口气,好一会儿才勉强说:"什么事?"
"Were you even listening to me?"
"你在听我说话吗?"
"Oh, yes!" Fluttershy smiled and nodded at her friend before her head sagged and her ears drooped. "Actually, no. I'm sorry."
"哦,是的!Fluttershy微笑着向她的朋友点了点头,然后垂下了头,垂下了耳朵。"事实上,没有。我很抱歉。"
Rarity hmphed and shook her head, though the effect was spoiled by the ghost of a smile on her muzzle. "I was saying, dear, that it's not fair that you are the only one to give a gift to Erin. We agreed that it would come from all of us, and now we're all quite caught out."
稀罕哼了一声,摇了摇头,可是她嘴上的笑容却破坏了这种效果。"我是说,亲爱的,你是唯一一个给艾琳送礼物的人,这是不公平的。我们都同意它将来自我们所有人,现在我们都被逮个正着。"
"Oh." Fluttershy considered that for a moment before spotting the flaw. "I'm sure that there are other things that Erin needs for her house. Maybe everypony could chip in on something else, instead?"
"哦。在发现缺陷之前,Fluttershy考虑了一会儿。"我肯定艾琳的房子还需要别的东西。也许每匹小马都可以凑钱买点儿别的什么东西来代替呢?"
Rarity sighed and shook her head once again. "I see that you're planning on being stubborn, Fluttershy." She smiled, then, a gleam of challenge in her eye. "I'm afraid that you give me no choice, then! I simply must keep trying to convince you to change your mind, even if it means I have to badger you until next spring!"
稀世叹了口气,又摇了摇头。"我看你打算变得固执,神经质。她笑了,眼睛里闪过一丝挑战的光芒。"那么,恐怕你没有给我选择的余地了!"我只是必须不断地说服你改变主意,即使这意味着我必须纠缠你到明年春天!"
An angry hissing growl sounded down by Fluttershy's fetlock. "Oh, I'm sure she didn't mean anything by that, Mister Badger," she said, directing a comforting smile at the annoyed creature.
一阵愤怒的嘶嘶声从飞飞的铁镣下传了下来。"噢,我敢肯定,她说这话并没有什么意思,獾先生。"
"Oh… No, of course not." Rarity chuckled uneasily and backed a step or two away. "I only meant that badgers are, of course, quite fierce and persistent when they wish to be. A most admirable trait!" she added when the badger kept on staring narrowly at her.
"哦……不,当然不是。稀罕不安地咯咯笑着,往后退了一两步。"我的意思只是说,獾只要愿意,当然是相当凶猛和执着的。最令人钦佩的品质!当獾继续盯着她看时,她又加了一句。
"There, see? She didn't mean any offense." Fluttershy set some fruit in front of the irritated badger. "Here, have some food."
"看到了吗?她没有任何冒犯的意思。抖动着翅膀,把一些水果放在恼怒的獾面前。"来,吃点东西。"
Animosities were forgotten as the badger munched happily into a fresh strawberry. Fluttershy smiled at him as she went on her way. Rarity followed, giving the dining badger a wary glance and a wide berth.
獾津津有味地吃着一颗新鲜草莓,把仇恨抛在脑后。她朝他微笑着走开了。稀罕紧随其后,对正在吃饭的獾警惕地瞥了一眼,便远远躲开。
"I really am very sorry, Rarity. I just wouldn't feel right accepting it." Fluttershy smiled gently at her friend as they walked along. "I can't take your money when I've already received an equivalent gift."
"我真的很抱歉,稀世。我只是觉得接受它是不对的。当他们走着的时候,Fluttershy对她的朋友温柔地笑了笑。"我不能收你的钱,因为我已经收到了等价的礼物。"
Rarity sniffed and rolled her eyes. She opened her mouth, most likely to continue trying to convince her to accept the money. Instead, she paused, then frowned, looking back over Fluttershy's shoulder.
稀世闻了闻,翻了翻眼睛。她张开嘴,很可能会继续试图说服她接受这笔钱。相反,她停顿了一下,然后皱起了眉头,回头看了看福尔蒂希的肩膀。
"It looks like somepony is coming up the road," Rarity said. "Oh, is that Erin?"
稀世说:"看起来好像有什么东西要上市了。""哦,是埃琳吗?"
Fluttershy looked around. "Oh. Yes, I think it is."
Fluttershy环顾四周。"哦。是的,我想是的。"
"Hello, Erin!" Rarity called, waving a hoof. "We're over here!"
"你好,艾琳!稀世挥舞着蹄子喊道。"我们在这里!"
"Hey there!" Erin called as she crossed the little bridge near Fluttershy's home.
"嘿!艾琳穿过靠近弗立特希家的小桥时喊道。
Fluttershy broke into a smile, happy to see her friend. And not just because having Erin around meant that Rarity would have to stop pressuring her to take her bits. "Hello, Erin. Welcome!"
飞飞突然笑了,很高兴见到她的朋友。这不仅仅是因为有了艾琳在身边就意味着很少有人会强迫她接受自己的观点。"你好,艾琳。欢迎!"
"Thanks! I've got some presents for you," Erin said as she came to a stop in front of them. She was grinning widely as she nodded at her saddlebags. "Can we go inside the house?"
"谢谢!我给你们准备了一些礼物。"艾琳在他们面前停了下来,说道。她咧着大嘴笑着,对着她的鞍囊点点头。"我们能进去吗?"
"Oh, of course. Though, I will have to join you in a few minutes, I'm afraid." Fluttershy offered an apologetic smile. "I still have some animals to feed, you see."
"哦,当然。不过,恐怕过几分钟我就得和你们一起去了。飞羽露出了歉意的微笑。"你看,我还有一些动物要喂养。"
A frown drifted across Erin's face before her sunny grin returned. "Oh, that's fine. It can wait until you're done. I really wanted to give you both your gifts at the same time."
艾琳的脸上掠过了一丝愁容,然后又露出了灿烂的笑容。"哦,这很好。它可以等到你完成。我真想同时给你两份礼物。"
"How nice!" Rarity smiled. "Though, you know you didn't have to do that, you know."
"多好啊!"稀有笑了。"不过,你知道你没必要这么做,你知道的。"
"I wanted to," Erin said, shrugging.
"我想,"埃林耸耸肩说。
"Well, if you want to, you could go inside and wait while I finished, and then we could all open the gifts together?" Fluttershy suggested. "Rarity, perhaps you could make tea?"
"好吧,如果你愿意,你可以进去等我把礼物打开,然后我们一起打开礼物。""Fluttershy建议。"稀罕,也许你会泡茶?"
"That's a marvelous idea!" Rarity trotted towards Fluttershy's cottage, calling back over her shoulder, "Erin, perhaps we could discuss the alterations to your dresses that you'll need, now that you have wings?"
"好主意!""伊玲,既然你有了翅膀,也许我们可以讨论一下你需要修改的衣服。"
Erin began trotting after her. "That sounds like a good idea!"
艾琳开始跟在她后面小跑。"听起来是个好主意!"
Fluttershy allowed herself a brief smile as her two friends let themselves inside her home, after which she resumed feeding her animal friends. It took a bit longer than the few minutes she'd said, but not too much longer. Ten minutes later, she was on her way back inside to join the others, pleased to have the job done and all of her furry friends eating happily.
当她的两个朋友进屋时,Fluttershy给了自己一个短暂的微笑,之后她又开始给她的动物朋友喂食。花的时间比她说的几分钟要长一些,但不会太长。十分钟后,她就回到屋里和其他人一起吃了。她很高兴自己的工作完成了,所有的毛绒绒的朋友们都吃得很开心。
Her friends were sitting on either side of Fluttershy's coffee table, with Rarity on the couch and Erin in the overstuffed armchair. The smell of freshly brewed chamomile wafted through the house, much to Fluttershy's intense satisfaction. Rarity knew her well and had brewed her favorite tea for her.
她的朋友们坐在弗立特希咖啡桌的两边,沙发上坐的是稀罕,扶手椅上坐的是艾琳。新酿的洋甘菊的香味在屋子里飘散,令弗立多感到非常满足。稀世很了解她,为她泡了她最喜欢的茶。
The two greeted Fluttershy as she went in and sat down before helping herself to one of her slightly chipped teacups. Mister Bear tried to be careful, but he always ended up chipping her tea set with his big claws whenever they had a tea party. As she put the sugar in her cup, she noticed that Erin was holding her teacup in the slightly awkward way that she was so used to seeing from her once-human friend, the bottom balanced on one upturned hoof while the other hoof braced it to keep it from falling.
当她走进去坐下来时,两个人激动地打了个招呼,然后自己拿起一个有小缺口的茶杯。熊先生试着要小心,但每次他们举行茶话会,他总是用他的大爪子敲碎她的茶具。当她往杯子里放糖的时候,她注意到艾琳正用一种有点尴尬的方式端着茶杯,这种方式她已经习惯了从她曾经的人类朋友那里看到,杯子的底部在一个翘起的蹄子上保持平衡,而另一个蹄子支撑着茶杯以防它掉下来。
"I was just discussing the gift we gave to Erin," Rarity said with just a hint of smugness. "She was unaware of it being a gift from all of us."
"我刚才还在讨论我们送给艾琳的礼物呢,"稀世有点沾沾自喜地说。"她不知道这是我们所有人送给她的礼物。"
Fluttershy froze with the teacup halfway up to her lips, a twinge of irritation ruffling the feathers of her wings.
她颤抖着僵住了,茶杯还没到嘴边,翅膀上的羽毛就被一种刺激的刺痛弄皱了。
"I… I see," she said carefully. "Well, um…"
"我……我明白了,"她小心翼翼地说。"嗯,嗯…"
"Of course, for some reason, Fluttershy is refusing to take our money, even though we all agreed," Rarity continued on relentlessly. "Something about getting a gift in return? I was wondering if you could clear that up for us, dear."
"当然,出于某种原因,Fluttershy拒绝接受我们的钱,尽管我们都同意了,"稀缺性无情地继续说。"关于得到礼物作为回报?"亲爱的,我想知道你能不能帮我们把这个弄清楚。"
Fluttershy flushed and stared down into her teacup. Rarity didn't have many faults, she reflected, but if Fluttershy were to complain about one, she might mention that she could be just a little pushy. Sometimes. Okay, maybe more than sometimes.
颤抖的脸涨得通红,低头凝视着她的茶杯。稀世并没有太多缺点,她想,但如果"飞飞"要抱怨其中一个缺点,她可能会说,她可能只是有点爱出风头。有时。好吧,也许比有时候多。
"But that wouldn't be right," Fluttershy mumbled towards her steaming tea. "I just couldn't."
"但那是不对的。""我不能。"
Erin shook her head. "Twilight reminded me earlier today that friends don't keep score. Still, it's really up to you if you want to take the money or not."
艾琳摇了摇头。今天早些时候,《暮光之城》提醒我,朋友是不会记分的。不过,你想不想要这笔钱,完全取决于你自己。"
Fluttershy shot Erin a grateful smile while Rarity let out an unlady-like grunt of frustration. Still, the idea of keeping score did bother her. She took a sip of her tea as she considered the idea.
当稀稀拉拉发出一声不像女人的沮丧呻吟时,她感激地笑了笑。不过,记分的想法确实困扰着她。她想了想,喝了一口茶。
"Well, you're right about keeping score," Fluttershy said eventually. "Though, that may not apply to Applejack and Rainbow Dash when they get competitive."
"嗯,关于记分,你是对的,"最后Fluttershy说。"不过,当苹果公司(Applejack)和Rainbow Dash变得有竞争力时,这一点可能就不适用了。"
Erin chuckled at that, and Rarity displayed a wry smile.
听到这话,埃琳咯咯地笑了起来,稀罕露出一丝苦笑。
"Well, if it will make everypony happy, I suppose I could just take the money." There was a surge of relief when she said that, realizing that the next few weeks would be much easier now. Of course, there was also a small swell of guilt. Fluttershy decided that she would take the time to do something nice for Erin to balance the scales a little bit. Perhaps she could knit her a sweater or something. She was on good terms with all of the local sheep, after all. She could buy quality wool in bulk.
"好吧,如果能让大家都高兴的话,我想我可以把钱拿走。当她意识到接下来的几周会容易得多时,她说的话让她松了一口气。当然,也有一点点内疚。Fluttershy决定花点时间为Erin做些好事,让她能平衡一下体重。也许她可以给自己织一件毛衣什么的。毕竟,她和当地所有的羊都相处得很好。她可以大量购买优质羊毛。
While Fluttershy sipped at her tea, Erin went over to the peg she'd hung her saddlebags off of and removed two gift-wrapped boxes. After checking the labels, Erin passed one box to Fluttershy and passed the other one to Rarity.
爱琳一边喝着茶,一边走到挂马鞍袋的木桩前,从木桩上取下两个包装精美的礼品盒。艾琳检查了标签后,把一个盒子交给Fluttershy,把另一个盒子交给rare。
"Thank you, dear," Rarity said as she took her present in her magical aura. "Oh, what lovely paper!"
"谢谢你,亲爱的。"稀世一边说,一边以她那不可思议的光环接过礼物。"哦,多漂亮的纸啊!"
"It's very nice," Fluttershy agreed.
"非常好。"
It was like the slowest race in Equestria as both Rarity and Fluttershy slowly and carefully peeled the wrapping paper off of the gifts. Fluttershy because she didn't like just tearing into things, and Rarity because she was carefully untaping each corner in order to fold the paper up neatly. It was a habit that Fluttershy had noted in her unicorn friend that she thought was just the slightest bit odd. After all, it wasn't as if she ever used the wrapping paper again. She just wanted it to be neatly folded when it was thrown away.
这是小马国最慢的一场比赛,既罕见又飘动缓慢,小心翼翼地撕开礼物的包装纸。她喜欢抖来抖去,因为她不喜欢撕东西;她喜欢稀罕,因为她会小心翼翼地拆开每个角落的胶带,以便把纸叠整齐。这是Fluttershy在她的独角兽朋友身上发现的一个习惯,她觉得这个朋友有点奇怪。毕竟,她好像再也不用包装纸了。她只是想在扔掉的时候把它叠整齐。
After some time had passed this way, she noticed that Erin was tapping a forehoof impatiently against the arm of the comfy chair. She met Fluttershy's eyes and stopped with a cleared throat and a blush.
过了一段时间,她注意到艾琳不耐烦地用前腿拍着舒适的椅子扶手。她迎着福尔泰什的目光,停了下来,清清喉咙,满脸通红。
"Sorry," Erin said sheepishly. "I'm just eager to see what you two think of the presents." Then she straightened up in her chair. "Oh! I forgot, can I ask that you don't talk about this to Rainbow Dash and Applejack? I still have to give them their presents. I was going to head out to the farm after this."
"对不起,"艾琳不好意思地说。"我只是很想看看你们俩对这些礼物的看法。然后她在椅子上坐直了身子。"哦!我忘了,我能要求你不要跟彩虹Dash和苹果杰克谈论这个吗?我还得给他们礼物。我本来打算在这之后去农场的。"
"I do believe Applejack is in town today, selling off the last of her family's winter store of apples," Rarity said as she peeled the last bit of paper off of her box. Fluttershy glanced over and saw her friend's eyes widen at what she saw. "Oh, my goodness," Rarity whispered, bringing a hoof up to her mouth.
"我相信苹果杰克今天一定在镇上,把家里冬天的最后一批苹果都卖光了。"佛洛蒂瞥了一眼,看到她朋友的眼睛被她看到的东西瞪得大大的。"哦,天哪,"稀罕低声说,把蹄子举到嘴边。
Fluttershy looked back down at her own box, still covered by too much paper to make out what it was. Judging by Rarity's excitement, though, it was obviously something nice. She reached out a trembling hoof and removed the last bit of wrapping paper obstructing the front.
Fluttershy又低头看了看自己的盒子,上面还盖着太多的纸,看不清是什么东西。不过,从稀世的兴奋程度来看,这显然是件好事。她伸出颤抖的蹄子,取出最后一点挡住前面的包装纸。
"Oh, my…" Fluttershy said faintly as the picture on the lid of the box showed, quite clearly, a tablet computer. Her heart fluttered between wonder and guilt. She'd have to make Erin at least three sweaters, now. Maybe more. She wondered vaguely how much it would cost to buy that much wool.
"哦,天哪……"当盒盖上的图片清晰地显示出一台平板电脑时,他有气无力地说。她的心在惊讶和内疚之间跳动。现在她至少得给艾琳织三件毛衣。也许更多。她模模糊糊地想知道买这么多羊毛要花多少钱。
"Do you like them?" Erin asked eagerly, leaning forward with a huge grin across her features. "Open them, the surprise isn't over yet!"
"你喜欢吗?"艾琳急切地问道,身体前倾,脸上挂着大大的笑容。"打开它们,惊喜还没有结束呢!"
Rarity got her box open first, of course. A unicorn's magic made short work of simple tasks like this. Still, Fluttershy wasn't far behind, getting her own box open just as Rarity gasped once again.
当然,稀世首先打开了她的盒子。独角兽的魔法只需要像这样简单的工作。不过,Fluttershy也没走多远,就在她打开自己的盒子时,稀世珍宝再次倒吸了一口气。
The tablet was a soft yellow in color that very nearly matched her own coat. She reached inside and pulled it out.
平板电脑是一种柔和的黄色,几乎和她自己的外套一样。她把手伸进去,把它拔了出来。
Erin was so excited that her feathers were ruffling as she bounced in her chair. "Turn them around!"
艾琳太兴奋了,她在椅子上跳来跳去,羽毛都竖起来了。"扭转他们!"
Fluttershy did so and drew in a surprised breath. Her cutie mark of three butterflies was painted across the back. She glanced over to see that Rarity's own white tablet had three blue diamonds on the back, as well.
"飞燕"照做了,惊讶地吸了一口气。她的背上画着三只可爱的蝴蝶。她瞥了一眼,发现稀世自己的白色写字板的背面也有三颗蓝钻。
"Erin, this is simply amazing!" Rarity said. "I never expected this! Oh! Thank you so much!" Rarity hopped down from the couch and crossed over to give Erin a big hug, the box and tablet floating along behind her.
"艾琳,这简直太棒了!""稀有说。"我从没想到会这样!"哦!非常感谢!稀世从沙发上跳下来,走过去给了艾琳一个大大的拥抱,盒子和平板电脑在她身后飘浮着。
Erin hugged her back. "Aw, you're welcome."
艾琳也拥抱了她。"啊,不用客气。"
When Erin, still hugging Rarity, looked over at her, Fluttershy averted her eyes.
当仍然抱着稀罕的艾琳看向她时,慌乱地移开了目光。
"Fluttershy?" Erin released Rarity, getting out of her chair to come over. "Is something wrong?"
"Fluttershy ?艾琳释放了稀罕,从椅子上站起来走了过来。"到底出什么事了?"
"N-no… No…" Fluttershy swallowed against the lump in her throat. "Oh. Yes. I'm sorry. It's too much. I love it, but… it's too much, Erin. I don't know if I can accept this. Aren't these expensive?"
"不——不……不……"她的喉咙哽住了,颤抖着咽了下去。"哦。是的。我很抱歉。它是太多了。我很喜欢,但是太过分了,艾琳。我不知道我能不能接受。不是这些昂贵?"
"Well, a little bit, yeah," Erin shrugged and smiled. "But it's not like I don't have money. It's fine."
"嗯,有一点,是的。"艾琳耸了耸肩,笑了。"但我又不是没钱。没关系。"
"But… I mean, I know you said not to keep score, but… The feather kit, and now this?" Fluttershy smiled weakly, blinking against the tears welling up in her eyes. "How can I possibly pay you back?"
"但是……我的意思是,我知道你说过不要记分,但是……羽毛工具包,现在这个?"颤抖无力地笑了笑,眨着眼睛抵挡着眼里涌出的泪水。"我怎么可能还你钱呢?"
Erin blinked at her a few times. Rarity, meanwhile, had taken a few steps back and was looking back and forth between her and Erin with concern in her eyes.
艾琳朝她眨了几下眼睛。与此同时,稀世已经后退了几步,在她和埃琳之间来回打量着,眼里流露出关切的神情。
Eventually, Erin started speaking, her earlier eagerness gone and her tone calm and serious. "Fluttershy," she said, "do you really want to talk about scores? Because we can do that, if you want."
最后,艾琳开始说话了,她先前的热情消失了,语调平静而严肃。"哎呀,"她说,"你真的想谈论分数吗?因为如果你愿意,我们可以做到。"
"N-no, that's—"
"n不,——"
But Erin hadn't finished. "Nevermind the fact that I was a stranger in an alien world, okay? And that you, and the others, became the best friends I ever had. And forget that you stayed with me even after you found out I wasn't who or what I said I was…" Erin trailed off briefly, her throat working as unshed tears glistened in her eyes as well. "You six, you saved my whole planet, Fluttershy. I could give you everything I own for the rest of my life, and it wouldn't come close to touching that debt."
但是艾琳还没有说完。"别介意我在一个陌生的世界里是个陌生人,好吗?"你和其他人,成为了我最好的朋友。忘记你和我在一起,即使你发现我不是我所说的那个人或我所说的那个人……""你们六个,你们拯救了我的整个星球,颤抖吧。我可以把我余生拥有的一切都给你,但这离我的债务还差得远呢。"
Erin stepped closer and put a hoof over Fluttershy's, which was on top of the yellow tablet in front of her. She offered up a trembling smile, which Fluttershy faced only with extreme difficulty. "Please, will you accept this gift?"
埃琳走近一些,把一只蹄子放在她面前的黄色平板电脑上。她露出一个颤抖的微笑,这微笑只有在极其困难的情况下才会颤抖。"请你收下这个礼物好吗?"
Fluttershy felt her mouth open and close wordlessly a few times. Finally, mutely, she nodded. Erin's happy smile returned as she gathered Fluttershy up in a hug.
Fluttershy感到自己的嘴张了又闭了好几次。最后,她默默地点了点头。爱琳高兴地笑了,她颤抖着抱了起来。
"Thank you, Fluttershy," Erin said as she hugged her.
"谢谢你,飞飞,"艾琳抱着她说。
Five sweaters, Fluttershy thought while Erin embraced her. At least five sweaters. Five sweaters and a quilt.
"五件毛衣,"埃琳拥抱着她时,她一边颤抖着一边想。至少五件毛衣。五件毛衣和一床被子。
Erin eventually released Fluttershy, cleared her throat and rubbed a fetlock across her damp eyes before heading back to her seat. Fluttershy looked over at Rarity, who had a handkerchief out and was dabbing at her own eyes. She shot her friend a look, silently pleading for a distraction so she could have some time to get her emotions under control. Rarity smiled and nodded.
艾琳终于松了口气,清了清嗓子,用毛巾擦了擦潮湿的眼睛,然后回到座位上。杰西望着杰西,杰西掏出一块手绢,在擦自己的眼睛。她向她的朋友投去一个眼神,默默地请求他分散一下注意力,这样她就有时间控制自己的情绪。稀世微笑着点点头。
"So, tell me," Rarity said, "how does one go about using these lovely devices?"
"那么,告诉我,"稀世说,"怎样使用这些可爱的装置呢?"
Erin chuckled. "I really should have gotten you all at once. I could have shown you all together."
艾琳咯咯地笑了。"我真应该一下子就把你们全弄到手。我本来可以让你们一起看的。"
"Oh, yes." Rarity nodded. "You mentioned that Applejack and Rainbow Dash still need theirs. Does that mean that Twilight and Pinkie have gotten the same?"
"哦,是的。"稀有点点头。"你提到苹果杰克和彩虹Dash还需要他们的。这是否意味着《暮光之城》和《小粉》得到了同样的结果?"
"That's right," Erin said, nodding. "They came over this morning. I got them started, and Pinkie ran off to do 'research'. Which, honestly, I'm a little nervous about."
"没错,"埃林点点头说。"他们是今天早上过来的。我让他们开始,Pinkie跑去做"研究"。说实话,我有点紧张。"
Fluttershy managed a smile while Rarity and Erin both chuckled at that.
抖害羞勉强笑了笑,而阿稀罕和艾琳都笑了。
"Then Twilight helped me move some boxes of stuff around," Erin continued. "I still have a lot of unpacking to do, but at least everything is in the right rooms now. She said she'd help Spike figure out how to use his tablet, and that I should give out the rest of them."
"然后暮光之城帮我搬了一些箱子,"艾琳继续说。"我还有很多东西要拆,但至少现在东西都在合适的房间里了。"她说她会帮斯派克弄清楚如何使用他的平板电脑,我应该把剩下的都分发出去。"
"Oh, dear Spikey-wikey got one too?" Rarity's ears perked up. "How nice! He's such a sweet little thing, and I know he feels left out quite often."
"哦,亲爱的Spikey-wikey也有一个?"稀罕竖起了耳朵。"多好啊!他真是个可爱的小家伙,我知道他经常感到被冷落。"
Erin laughed and nodded. "He sure seemed excited to get it! I put some action movies and comic books on it for him, since I know he likes that kind of thing."
艾琳笑着点点头。"他似乎很兴奋能得到它!"我给他放了一些动作片和漫画书,因为我知道他喜欢这类东西。"
"Is that mostly what this is for?" Rarity asked, holding up her tablet. "Books and movies?"
"这就是它的主要用途吗?"稀世举起她的平板电脑问道。"书籍和电影?"
"And music," Erin said. "And you can draw with them and take pictures and videos with them. Like, yours I loaded up with all sorts of fashion magazines, and Fluttershy's has some animal documentaries and pictures of cute animals."
"还有音乐,"艾琳说。你可以和他们一起画画,一起拍照和录像。比如,我买了各种时尚杂志,Fluttershy有一些动物纪录片和可爱动物的照片。"
Fluttershy, who had been slowly sinking down in her seat for the last few seconds, perfectly content to let the other two talk around her, suddenly sat bolt upright.
最后几秒钟,她一直在座位上慢慢地往下沉,完全满足于让她周围的两个人说话,这时她突然坐直了身子。
"Cute animals?" she repeated, ears up and eyes sparkling. "Could you show me?"
"可爱的动物吗?她重复道,竖起耳朵,眼睛闪闪发光。"你能指给我看吗?"
"Of course!"
"当然!"
As Erin started teaching the two of them how to use their tablets, Fluttershy's guilt slowly began to recede to the back of her mind. Not forgotten, but momentarily overwhelmed by pictures of kittens and other cuddly animals in adorable poses, oftentimes with funny captions on them that made her laugh.
当艾琳开始教他们两个如何使用平板电脑时,"飞飞"的负罪感开始慢慢地从她的脑海中消失。不是忘记,而是瞬间被小猫和其他可爱的动物摆出的可爱姿势的照片所淹没,这些照片上往往有有趣的字幕,让她大笑。
"I think I could get used to this," Fluttershy said, smiling.
"我想我会习惯的。"
~~*Erin*~~ ~ ~ *艾琳* ~ ~
Applejack was right where Erin had expected to find her. She had her display wagon set up on the east side of the open-air market, next to all the other wagons and stalls with produce for sale.
艾普尔杰克就在埃琳希望找到她的地方。她把她的展示车安置在露天市场的东侧,紧挨着所有其他带有出售农产品的货车和货摊。
The apples in the wagon weren't her best by a long shot, having been sitting in Sweet Apple Acres' apple cellar all winter. Still, though they were a little shriveled, there were plenty of ponies buying, especially at the huge discount that Applejack was currently selling them for.
马车上的苹果显然不是她最好的,因为她整个冬天都坐在甜苹果地里的苹果窖里。不过,尽管它们有点干瘪,还是有很多小马在买,尤其是以苹果杰克(Applejack)目前的大幅折扣出售。
Erin faltered as she trotted up, her happy grin fading into a grimace of self-recrimination. She should have figured that Applejack would be too busy to just drop everything just because Erin had a present for her.
艾琳步履蹒跚地小跑过来,她开心的笑容变成了自责的鬼脸。她应该想到Applejack会很忙,不会因为Erin有礼物送给她就放弃所有的东西。
AJ hadn't seen her yet, instead paying attention to a customer who was asking some question or other. Erin sighed, turned, and trotted away. She still needed to give Rainbow Dash her present, after all.
AJ还没有看到她,而是把注意力放在了一个正在问这样或那样问题的顾客身上。艾琳叹了口气,转身小跑走了。毕竟,她还是需要给彩虹·达什她的礼物。
A quick trot through Ponyville later brought her to Rainbow's house, a fairy-tale construction of clouds and rainbows anchored on Ponyville's south side. Dash occasionally wanted different scenery, which meant she would drag the house somewhere new. It could occasionally be a nuisance to find her, especially when she forgot to tell her friends she'd moved her house.
小跑着穿过波尼维尔后,她来到了彩虹之家。彩虹之家是一座童话般的建筑,由云朵和彩虹构成,坐落在波尼维尔的南侧。达什偶尔会想要不同的风景,这意味着她会把房子拖到新的地方。有时候找她会很麻烦,尤其是当她忘了告诉朋友她搬家了的时候。
Erin came to a halt on the dirt road almost directly under Rainbow Dash's house, shouting "Hey, Rainbow!"
艾琳在一条土路上停了下来,几乎就停在了"彩虹·达什"家的正下方,她喊道:"嘿,彩虹!"
A long moment passed before a semi-groggy voice rasped "Yeah?"
过了很长一段时间,一个半昏迷的声音粗声粗气地说:"是吗?"
"You home?"
"你回家吗?"
There was another long pause.
又是一阵长时间的沉默。
"No, I'm out. This is just my answering service." A scowling and disheveled rainbow-maned head poked over the side of the house, the scowl dropping away into a grin when she saw who was calling up to her. "Hey, Erin!"
"不,我出去了。这是我的电话答录机。一个愁眉苦脸、蓬头垢面、披着彩虹斗篷的脑袋从房子的一侧探了出来,当她看到是谁在叫她时,那张愁眉一下子变成了咧嘴一笑。"嘿,艾琳!"
"Hi, Rainbow! Can you come down?"
"嗨,彩虹!你能下来吗?"
"Why?"
"为什么?"
Erin grinned and waved the giftwrapped box over her head. "I've got a present for you!"
艾琳咧嘴一笑,在头上挥舞着那个礼物盒。"我给你准备了一份礼物!"
"What, really?" Rainbow's ears perked up and her grin got even bigger. "Yeah, you got it!"
"什么,真的吗?彩虹的耳朵竖起来了,她的笑容更大了。"是的,你说对了!"
Rainbow kicked off of her cloud house, and Erin's heart caught in her throat as her friend plummeted like a stone, only to flare her wings at the last second in order to come in for a soft touchdown.
彩虹从她的云屋中踢了出去,艾琳的心被卡在了喉咙里,她的朋友像一块石头一样重重地摔了下去,最后一秒钟她张开了翅膀,以便轻轻着地。
Erin shook her head in admiration. "That was pretty cool."
埃琳钦佩地摇了摇头。"这太酷了。"
"That was cool?" Rainbow snorted. "Girl, you ain't seen cool yet."
"这是酷?"彩虹哼了一声。"姑娘,你还没酷呢。"
Erin chuckled, then started digging through her saddlebags. "Sure I have. I saw your sonic rainboom, remember?"
埃琳咯咯地笑了,然后开始翻她的鞍囊。"当然。我看到了你的音爆,记得吗?"
"True, true," Rainbow said as she buffed a hoof on her chest.
"对,对,"彩虹一边说,一边用蹄子在胸口上蹭了蹭。
Erin chuckled as she pulled out the box with Rainbow Dash's name on it and passed it over to the pegasus, who was grinning and hopping back and forth between her front hooves.
艾琳咯咯地笑了起来,她把写着"彩虹冲刺"名字的盒子拿出来,递给了帕伽索斯,帕伽索斯正咧着嘴笑着,在她的前腿之间跳来跳去。
"Neat! Hey, want to come up for a bit while I open it?"
"整洁!嘿,我打开的时候你能上来一下吗?"
"Uh…" Erin glanced up at the cloud-house above her. "Yeah, I still can't fly, Rainbow."
"呃……"艾琳抬头看了看她头顶的云屋。"是啊,我还是不会飞,彩虹。"
"Pfft!" Rainbow waved a hoof dismissively. "Like that's a problem. Hold this for a sec," she said, passing the wrapped box back to Erin. "Wait right here."
"啐!彩虹不屑地晃了晃蹄子。"好像这是个问题。等一下,"她说着,把包好的盒子递给了艾琳。"等等。"
Rainbow jumped and flapped her wings at the same moment, launching her almost straight up. After she passed her house, she curved, leveled off, and streaked off across the sky.
彩虹跳了起来,同时扇动着翅膀,几乎是直直地飞了起来。经过她的房子后,她转弯,变平,然后飞奔过天空。
Erin, waving a hoof in front of her face and coughing at the dust Rainbow had kicked up in her face, momentarily lost track of her. When she spotted her again, Rainbow was streaking back, pushing a pony-sized cloud ahead of her.
艾琳在她面前挥舞着她的蹄子,对着扬起的灰尘咳嗽着,暂时失去了她的踪迹。当她再次看见彩虹时,它正飞奔回来,前面推着一匹小马大小的云。
It was strange, Erin reflected as she put the giftwrapped box back in her saddlebags, how the cloud didn't dissipate as it got closer to the ground. In fact, it looked oddly solid, cradled as it was between Dash's forelegs. When Rainbow landed, causing still more dust to billow up into Erin's face, she released the cloud and pushed it towards her.
"真奇怪,"艾琳把装礼物的盒子放回她的鞍囊时想,"当云越来越靠近地面的时候,它怎么没有消散呢?"事实上,它看上去非常结实,像摇篮一样夹在达什的两条前腿之间。当"彩虹"降落时,更多的灰尘被吹到艾琳的脸上,她释放了"彩虹",并把它推向自己。
"Hop on," Dash said with a grin.
"上车吧,"达什笑着说。
"Uh…"
"嗯…"
"Trust me. You may not be able to fly, but you should at least be able to do this much."
"相信我。你可能不会飞,但至少应该能飞这么多。"
Erin looked doubtfully at her friend's smiling face before shrugging and poking tentatively at the cloud with her left forehoof. It went straight through, much as Erin had suspected it would.
艾琳疑惑地看着她朋友的笑脸,然后耸了耸肩,用左前蹄试探地戳了戳云朵。它径直穿过,就像埃琳预料的那样。
"You have to to think of the cloud as solid," Rainbow said. "Watch. It's solid." She poked at the cloud herself. Instead of sinking through the cloud, her light blue hoof pushed it gently in Erin's direction.
"你必须把云想象成固体,"彩虹说。"看。这是固体。她自己也戳了戳那朵云。她的淡蓝色蹄子没有穿过云层,而是轻轻地朝艾琳的方向推去。
"Um, okay. I'll give it a shot."
"嗯,好的。我要试一试。"
This cloud is solid. This cloud is solid. Erin thought on a repeating loop before reaching out and poking the bundle of mists once again.
这片云是固体的。这片云是固体的。艾琳想了想,又伸出手去拨弄那一团迷雾。
She gasped as her hoof met resistance. It was like poking a balloon filled with jelly, the cloud initially giving way before springing back and scooting a short way back towards Rainbow, who was busy grinning back at her.
当她的蹄子遇到阻力时,她倒吸了一口气。这就像拨弄一个装满了果冻的气球,云朵开始消失了,然后又弹了回来,向彩虹跑去了一小段距离,彩虹正忙着对她笑呢。
"You got it!" Dash said. "Now, hop on up!"
"你明白了!"冲说。"现在,上来吧!"
Erin squealed with excitement and, giggling, attempted to climb up onto the squishy, shifting cloud. "Hahah, this is aweso-whoop!" Erin tumbled sideways off of the cloud with a shriek. The next thing she knew, she was lying on her back and staring at the sky while laughing hysterically.
艾琳兴奋地尖叫着,吃吃地笑着,试图爬到那软软的、不断移动的云上。"哈哈,这真是太棒了!"埃琳尖叫一声,从云端斜着摔了下来。她知道的下一件事是,她仰面躺着,盯着天空,歇斯底里地大笑起来。
Rainbow snorted. "Nice one, Erin."
彩虹哼了一声。"好一个,艾琳。"
"Yeah, yeah," Erin said, chuckling as she got back onto her hooves. "Let's try that again, huh?"
"是啊,是啊,"埃琳说着,重新骑上马蹄铁,咯咯地笑了起来。"让我们再试一次,嗯?"
Her second attempt was more successful. She climbed up with one leg at a time, moving slowly and managing to keep her balance. She stood up on top of the cloud, mist rising up to tickle her fetlocks as her legs trembled with the effort of staying upright.
她的第二次尝试更为成功。她一次只用一条腿爬上去,动作缓慢,努力保持平衡。她站在云的顶端,雾气升起来逗弄着她的脚镣,她的腿因努力保持直立而颤抖。
"You doing okay?" Rainbow asked.
"你在干什么?"彩虹问道。
Erin was still giggling as she answered. "Yeah, I think I got—whoah!" She almost lost her balance, overcompensated trying to recover, and ended up flopping over on her side. It was like landing in a foggy beanbag, the wet mist dampening her hair and coat.
艾琳回答的时候还在咯咯地笑。"是啊,我想我走了——哇!"她几乎失去了平衡,过度补偿试图恢复,最终倒在了她的身边。这就像降落在一个有雾的豆袋里,湿漉漉的雾气浸湿了她的头发和大衣。
"Eh, good enough," Rainbow said. "Don't move, okay?"
"嗯,够好了,"彩虹说。"不要动,好吗?"
"Why, what—" was all Erin managed before Rainbow scooped up the cloud and shot up towards her house. Once again, Erin shrieked and giggled, her wings half-opening as the wind hit her feathers. The trip was over in just a second or two, the cloud level with the bottom floor of Dash's house.
"怎么,怎么——"彩虹抓起云彩朝她家冲去之前,爱琳已经把话说完了。艾琳又一次尖叫着,咯咯地笑着,当风吹到她的羽毛上时,她的翅膀半张开了。这趟旅行只花了一两秒钟就结束了,达什的房子的底层已经被云层遮住了。
"Top floor, everypony off," Rainbow said.
"顶层,所有的小马都下来,"彩虹说。
"Uh…" Erin stared at the "landing" out in front of Rainbow Dash's house. Unlike the rest of the clouds she could see, these clouds were darker and perfectly flat on top. "You'll catch me if I fall through, right?"
"呃……"艾琳盯着彩虹·达什家门前的"降落"。与她能看到的其他云不同,这些云颜色更深,顶部完全平坦。"如果我掉下去,你会抓住我的,对吗?"
Rainbow rolled her eyes. "You're not going to fall through." A few seconds passed. "Come on, already. Or do you want me to just shove you off of the cloud?"
彩虹翻了个白眼。"你不会失败的。几秒钟过去了。"来吧,。还是想让我把你从云端推下去?"
"No!" Erin yelped. She took a deep breath, braced herself, and reached out to touch the landing, all while chanting this is solid, this is solid in her head.
"不!"艾琳叫喊起来。她深吸一口气,振作精神,伸出手去触摸楼梯平台,同时念叨着"这是真的,这是真的"。
Much to Erin's surprise, the landing felt firm but springy, kind of like a gym mat. She poked it with her hoof a few times before jumping off of the cloud. She then spent a few seconds walking in a small, tight circle and marvelling at the feeling of it.
令艾琳惊讶的是,着陆时感觉很结实,但很有弹性,有点像体操垫。她用蹄子戳了几下,然后从云上跳了下来。然后她花了几秒钟在一个小而紧凑的圈子里走着,惊叹于这种感觉。
"Cloudstone," Rainbow Dash said as she landed next to Erin. She stomped a hoof on it, causing an oddly hollow thunking sound. "Specially treated cloud. Kind of expensive, but it stops stuff from falling through."
"是云石,"彩虹·达什在埃琳旁边着陆时说。她用蹄子踩了它一下,发出一种奇怪的空洞的敲击声。"特别对待云。有点贵,但它能防止东西掉下去。"
"Oh, neat!" Erin jumped up and down a couple of times. "How's it made?"
"哦,整洁!艾琳跳上跳下了几次。"怎么做?"
Rainbow snorted. "Heck if I know."
彩虹哼了一声。"真不知道。"
"Oh." Erin's disappointment was short-lived as she happily trotted in place on the cloudstone. "This is so cool!"
"哦。艾琳在"云石"上愉快地小跑时,没过多久就失望了。"这太酷了!"
Rainbow snorted again and shook her head. "You find the weirdest things cool, Erin. Anyway, come on in!"
彩虹又哼了一声,摇了摇头。"你觉得最奇怪的事情都很酷,艾琳。不管怎样,进来吧!"
"You know, I never expected to be able to come up here," Erin said as she followed Rainbow into her home. The front door opened into a pony-length hallway, which in turn opened up into a larger room.
"你知道,我从没想过能来这里,"艾琳说,她跟着彩虹进了自己的家。前门通向一条马长走廊,走廊又通向一个更大的房间。
"I've had some friends over, but not very often," Rainbow Dash said with a shrug. "Most of my closest friends aren't pegasi, after all. Anyway, can I get you something to drink?"
"我有一些朋友来过,但不常来,"彩虹·达什耸耸肩说。"我最亲密的朋友毕竟不是帕伽西。不管怎样,我能给你拿点喝的吗?"
"Uh, sure. Water?"
"嗯,当然。水?"
"We're in a cloud," Rainbow said with a smirk. "I can do water. Be right back. Uh, and don't snoop through my stuff, okay?"
"我们在云里,"彩虹得意地笑着说。"我会喝水。马上回来。呃,别偷看我的东西,好吗?"
Erin nodded as Rainbow trotted off towards what was, presumably, the kitchen. She took advantage of her friend's absence to gawk at her house. Erin never had any real ideas about what Rainbow's house would look like on the inside, but she found herself not being too surprised by anything she saw.
彩虹小跑着走向厨房,艾琳点点头。她趁朋友不在时呆呆地看着她的房子。艾琳从来没有真正想过彩虹的房子里面会是什么样子,但她发现自己对所看到的一切并不感到太惊讶。
In the short hallway by the front door was a row of wooden pegs, somehow bolted into the cloud wall itself. Rainbow's slightly-tattered saddlebags were hung on a peg, right next to three pairs of flight goggles, one clear, one tinted yellow, and the last tinted a dark grey. The small room Erin was currently in had one doorway straight ahead, and another to her left, which Rainbow had gone through a moment earlier.
在靠近前门的短走廊里,有一排木栓,不知怎么地就插进了云墙里。彩虹的破烂马鞍袋挂在一个钉子上,旁边是三副飞行镜,一副是透明的,一副是淡黄色的,最后一副是深灰色的。艾琳现在住的小房间有一扇门在正前方,另一扇门在她的左边,彩虹刚才就穿过了这扇门。
Erin wandered further into the first room, looking around curiously. It was no surprise at all that there was a large Wonderbolts poster on one wall, directly opposite a low couch. What was a surprise was the low bookshelf with a few well-read books in it. One book, a Daring Do novel, was on an end table next to the couch. A half-empty glass of water was set on top of it, which made Erin's eye twitch a little bit. She always tried to keep her own books in good condition.
埃琳走到第一个房间里,好奇地四处张望。毫不奇怪,有一面墙上贴着一张Wonderbolts的海报,正对着一张低矮的沙发。令人惊奇的是那低矮的书架上放着几本好书。有一本书,一本大胆的小说,放在沙发旁边的茶几上。上面放着半杯水,这让艾琳的眼睛有点抽动。她总是设法使自己的书保持良好的状态。
In front of the couch was a low, dark oak coffee table. The beautiful wood was somewhat marred by rings, some of which still had their half-empty glasses still standing in them. A huge pile of magazines was stacked on top of the table, looking like it was in imminent danger of collapsing at any moment. Under the table, more magazines were stacked. They had names like Weather Reports, Wonderbolts Quarterly and The Inside Loop, the last of which seemed to be about stunt flying.
沙发前面是一张低矮的深色橡木咖啡桌。美丽的树林多少有些年轮的痕迹,有些年轮里还有半空的玻璃杯。桌上堆着一大堆杂志,看上去随时都有坍塌的危险。桌子下面堆放着更多的杂志。它们有天气预报、《惊奇螺栓季刊》(Wonderbolts Quarterly)和《内环》(The Inside Loop)等名字,最后一个似乎是关于特技飞行的。
On the wall behind the couch was a set of shelves holding a collection of trophies, including a circlet with a pair of wings on either side and a lightning bolt on the front. Most of the trophies were gold, though there were a couple of silvers or bronze, placed unobtrusively behind the golden ones. On either side of the shelves were pennants and flags, and one last poster of the Wonderbolts.
沙发后面的墙上有一排架子,上面放着许多奖杯,包括一个两边各有一对翅膀、前面有一道闪电的圆环。大多数奖杯都是金质的,不过也有几件银质或铜质奖杯,被低调地放在金质奖杯的后面。书架的两边都挂着三角旗和小旗,还有最后一张神奇螺栓的海报。
Erin shook her head, wondering how all of that stuff was attached. "Cloudstone" or no, it seemed weird to be able to build stuff into clouds.
艾琳摇了摇头,不知道这些东西是怎么联系在一起的。不管是不是"云石",能把东西造进云里似乎很奇怪。
"Hey, I see you've found the trophy case," Rainbow Dash said as she came into the living room. There was a glass of water balanced on her outstretched wing.
"嘿,我看你找到奖杯了,"彩虹·达什走进客厅时说。在她伸出的翅膀上有一杯水。
"Yeah, I hope you don't mind." Erin plopped down on her hindquarters on the floor and took the glass in both of her front hooves. She took a sip; the water was shockingly cold. "That's a lot of trophies."
"是的,我希望你不介意。艾琳扑通一声倒在地板上,两只前腿都拿起了杯子。她喝了一口;水冷得吓人。"这是很多奖杯。"
"Yeah, I've got a few," Dash replied with exaggerated modesty. Then she grinned. "So, what's this about a present?"
"是的,我有一些。"达什夸张地谦虚地回答。然后她笑了。"那么,这是关于礼物的什么呢?"
Erin grinned back and set the water down on the floor. She took the box out with her teeth and passed it over to an eager Rainbow Dash, who tore into the paper with gusto. When she saw what was printed on the box, her magenta eyes widened in shock.
艾琳咧嘴一笑,把水倒在地板上。她用牙齿把盒子拿了出来,递给急切的"彩虹冲刺","彩虹冲刺"津津有味地撕下了那张纸。当她看到盒子上印着的东西时,她那紫红色的眼睛震惊地睁大了。
"No way!" The box lid was ripped off, revealing a light blue tablet inside. Rainbow pulled it out and held it up to her face. "This is awesome!"
"不可能!盒盖被撕开,里面是一块淡蓝色的平板电脑。彩虹把它拿出来,举到她的面前。"这是太棒了!"
"Turn it around," Erin suggested.
"把它转过来,"艾琳建议道。
Rainbow did so, letting out a squeal when she saw her rainbow-bolt cutie mark painted on the back. "Even better! This is so cool!" Her grin started fading after a few seconds as she stared at the tablet. "Uh. So, what does it do?"
彩虹照做了,当她看到她的彩虹螺栓可爱的标志画在背上时,发出了尖叫。"更好的!这太酷了!她盯着平板电脑看了几秒钟,笑容开始消失。"嗯。那么,它是做什么的呢?"
"I put some movies on it, and some music I thought you might like. There are some adventure books I liked, and a few comics, too. Also, I put some races and stuff on it, and some stunt flying."
"我放了一些电影,还有一些我想你可能会喜欢的音乐。有一些我喜欢的冒险书,还有一些漫画。此外,我还加入了一些比赛和其他内容,以及一些特技飞行。"
"Oh, that's cool. So, uh… How do I use it?"
"哦,那很酷。那么,呃……我该怎么用它呢?"
Erin smiled. "How about I show you?"
艾琳笑了。"我给你看看怎么样?"
~~*Applejack*~~ ~ ~ * * ~ ~苹果白兰地
AJ sighed, pushed her hat back on her head and flipped the sign on her cart to "Closed". It had been a busy day, but all of her stock was finally sold. She had even sold off the last few apples, the smallest and most wrinkled of what she'd pulled out of the apple cellar. An old mare had bought them with the explanation that she planned on making applesauce.
AJ叹了口气,把她的帽子推到脑后,把她车上的标志翻转到"关闭"。这是忙碌的一天,但她所有的股票最后都卖光了。她甚至卖掉了最后几个苹果,那是她从苹果窖里取出来的最小最皱的苹果。一匹老母马买了它们,解释说她打算做苹果酱。
The sun was inching its way towards the horizon by now, the shadows in the marketplace getting longer as the day wore on. She was about to hitch herself up to her cart and head on home when she heard a familiar voice calling her name. Looking around, she saw Erin trotting towards her, green saddlebags around her midsection and a happy smile on her face.
此时,太阳正缓慢地向地平线移动,随着时间的流逝,市场上的影子越来越长。她正要套上马车回家,忽然听到一个熟悉的声音在叫她的名字。环顾四周,她看见艾琳小跑着向她走来,腰上挂着绿色的鞍囊,脸上挂着幸福的微笑。
"Well, howdy, Erin!" Applejack offered a smile as her friend trotted up. "What can I do for ya?"
"哦,你好,艾琳!当她的朋友小跑过来时,Applejack露出了微笑。"我能为你做什么?"
"I've got a present for you," Erin replied, nodding towards her bags. "I'm glad I caught you before you left for home!"
"我给你准备了一份礼物,"艾琳边回答边点头指着她的包。"我很高兴在你回家之前抓住了你!"
"Oh, that's mighty nice of ya, sugarcube, but ya didn't have to get me a present."
"哦,你真是太好了,甜心,但是你没必要给我买礼物。"
"It wouldn't be a present if I had to give it to you, AJ," Erin pointed out. "Did you want to open it now? We should probably go somewhere indoors to open it."
"如果我必须把它送给你,它就不是礼物了,AJ,"艾琳指出。"你想现在就打开吗?"我们应该找个室内的地方把它打开。"
"Well, I was just about to head back…" Applejack trailed off at the look on Erin's face. "Well, if'n you're gonna turn the puppy-dog eyes on me, I reckon' we can go somewhere really quick."
"嗯,我正要回去……"苹果杰克看着埃琳的脸,不做声了。"好吧,如果你把小狗的眼睛转向我,我想我们可以很快地去个地方。"
"Sugarcube Corner?" Erin suggested. "I'm a little hungry."
"Sugarcube角落?"艾琳建议。"我有点饿了。"
AJ's stomach took that moment to rumble. She chuckled and said, "Sure, that sounds good. I could do with a snack myself."
AJ的胃在那一刻发出了隆隆声。她咯咯地笑着说:"当然,听起来不错。我自己也想吃点点心。"
Sugarcube Corner was mostly empty by the time the two of them arrived just minutes later. A smiling Mrs. Cake was behind the counter, fetching a big slice of key lime pie for Erin and an even bigger slice of warm apple pie with ice cream for Applejack. As she bit into her first forkful, AJ reflected that, while Mrs. Cake's apple pie couldn't touch Granny Smith's, she was still a top-shelf baker.
当他们俩几分钟后到达的时候,方糖角几乎是空的。一位面带微笑的蛋糕太太站在柜台后面,给艾琳拿了一大块青柠派,给苹果杰克拿了更大的一块加冰激淋的热苹果派。当AJ咬着第一口叉子时,她想,虽然蛋糕夫人的苹果派比不上史密斯奶奶的,但她仍然是一流的面包师。
Erin, fumbling with her fork in the way she usually did, regaled Applejack with details of her day so far. It turned out that everypony else got their presents already, even little Spike. When Erin started talking about being in Rainbow's house, AJ really started paying attention. She'd never been able to get up there, of course.
艾琳像往常一样拿着她的叉子,尽情地向苹果杰克讲述着她这一天的生活细节。结果是其他所有的小马都已经收到了他们的礼物,即使是小穗。当Erin开始谈论她在Rainbow家的时候,AJ真的开始注意了。当然,她永远也到不了那里。
"So, what's it like?" Applejack asked.
"那么,它是什么样的?""苹果白兰地问道。
"Rainbow's house?"
"彩虹的家吗?"
Applejack nodded, shoveling another forkful of pie into her mouth.
苹果杰克点点头,又把一叉子派塞进她嘴里。
Erin shrugged. "She didn't give me a tour, so I only really saw one room. It was just a couch with some trophies, pennants and posters. And lots of magazines."
艾琳耸耸肩。"她没有带我参观,所以我只看了一个房间。那只是一个放着奖杯、三角旗和海报的沙发。还有很多杂志。"
"Hmph." Applejack stabbed at her pie again. Not that she was dying with curiosity or anything, but she'd visited all of her other friends in their homes. She really wanted to know what it was like in there.
"嗯。苹果杰克又在她的派上戳了一下。并不是她好奇得要死,而是她去拜访了她所有的朋友。她真的很想知道里面是什么样子。
"You should get Twilight to cast that cloud-walking spell on you again," Erin said after swallowing another mouthful of key lime pie. "You could go up and see for yourself."
"你应该让《暮光之城》再次给你带来飘浮在云端的魔力。"艾琳又吃了一口酸橙派后说。"你可以自己上去看看。"
Applejack blinked. "I reckon' I never considered that. I don't wanna be an imposition on Twi, though."
苹果白兰地眨了眨眼睛。"我想我从来没有这样想过。不过,我不想成为Twi的累赘。"
"I don't think she'd mind," Erin said with a shrug. "Want me to ask her for you?"
"我想她不会介意的,"艾琳耸了耸肩说。"要我替你向她求婚吗?"
"I think I can manage asking by myself," AJ replied with a stiff smile while smothering a small twinge of irritation. Erin was just trying to be nice by asking, after all. She forked the last bit of pie into her mouth.
"我想我可以自己问一下。"AJ僵硬地笑着回答,同时又抑制住了一丝恼怒。埃琳只是想友好地问一下。她把最后一点馅饼叉进嘴里。
"Okay." Erin shrugged before finishing off her last bite of dessert as well. After a quick slug of milk, she grinned and held up a hoof. "It's present time!"
"好吧。艾琳耸了耸肩,也吃完了最后一口甜点。喝了一小口牛奶后,她咧嘴一笑,举起了一只蹄子。"现在!"
"Sounds good," Applejack replied with a smile, shoving aside both her empty plate and her idle thoughts of building a scaffold to get up to Rainbow Dash's house.
"听起来不错,"苹果杰克微笑着回答,推开她的空盘子和她的无聊的想法建立一个脚手架上彩虹Dash的房子。
Erin was already ruffling through her saddlebags, which were on the ground next to her chair. She came up a second later with a wrapped package, which she passed over with a huge smile.
埃琳已经在整理她的鞍囊了,鞍囊就在她椅子旁边的地上。一秒钟后,她拿着一个包装好的包裹走了过来,脸上带着灿烂的微笑。
"Thank you kindly," Applejack said, holding the box uncertainly for a moment. With a shrug, she peeled the paper off, aware of Erin getting more and more excited as she got closer to revealing the gift inside.
"谢谢你,"苹果杰克说,拿着盒子犹豫了一会儿。她耸了耸肩,把纸扯了下来,发现艾琳越来越兴奋,因为她马上就要打开里面的礼物了。
Applejack crumpled up the last of the paper and put it on the table, staring blankly at the picture on the box in front of her. It took her a second to recognize it as a picture of a tablet computer, like the one Erin had shown her earlier. Slowly, it started sinking in that Erin had given her one of her very own.
苹果杰克把最后一张纸揉成一团,放在桌上,茫然地盯着她面前盒子上的画。她花了一秒钟才认出这是一张平板电脑的图片,就像之前艾琳给她看的那张一样。慢慢地,我开始意识到艾琳已经给了她自己的一份礼物。
"Oh. Huh. Well, would you look at that?"
"哦。嗯。嗯,你能看看吗?"
Erin's smile was fading fast, AJ noticed with an internal flinch.
埃琳的笑容很快就消失了,AJ注意到她内心有些畏缩。
"You don't like it?" she asked.
"你不喜欢吗?""她问道。
Applejack shook her head quickly. Granny would likely beat her flank redder than Big Mac's if she thought AJ was less than grateful for a gift from a friend. "It ain't that! It's just… I don't know what I'm gonna do with it, honestly."
苹果杰克很快地摇了摇头。如果AJ对朋友的礼物不感恩,奶奶很可能会打她的腰,她的腰比巨无霸还要红。"这不是!老实说,我不知道我要怎么处理它。"
Erin's grin returned. "That's easy! I've loaded it up with all sorts of stuff on farming and gardening techniques, both books and documentaries. Also, I've got some music and movies on there that I thought you might like."
艾琳的笑容又回来了。"这很简单!我在上面下载了各种关于农业和园艺技术的资料,包括书籍和纪录片。还有,我放了一些音乐和电影,我想你可能会喜欢的。"
"That's nice and all," AJ replied, her hat tilting back as she scratched at the side of her head with a hoof while staring at the tablet. "But I don't reckon' I know if Earth farmin' techniques will work on Equestria, and I ain't gonna have a whole lot of time for watchin' movies, what with getting the farm goin' after winter."
"这很好,"AJ回答说,她的帽子向后倾斜,一边盯着平板电脑,一边用蹄子挠着头。"不过我想,我知道泥土的农耕技术在马术比赛中不会起作用,而且我也不会有很多时间去看电影,因为冬天过后农场就要开工了。"
It was a reasonable, honest explanation. And, for some reason, it didn't seem to be working all that well.
这是一个合理、诚实的解释。而且,由于某些原因,它似乎并没有那么有效。
"Oh," Erin said, her head sinking and her ears drooping.
"哦,"埃琳说,她的头沉了下去,耳朵耷拉下来。
Applejack cursed herself, feeling like she'd accidentally kicked a puppy. "What I mean is, I don't really know how to use it, so I don't know what I can use it for." She pushed a big, hopeful smile onto her face. "You see what I mean?"
苹果杰克诅咒她自己,感觉她不小心踢了一只小狗。"我的意思是,我真的不知道如何使用它,所以我不知道我可以用它来做什么。她脸上绽开了一个充满希望的笑容。"你明白我的意思吗?"
Erin sat up straighter and a smile ghosted across her muzzle. "I could teach you, if you wanted?" she offered.
艾琳坐得更直了,她的嘴部闪过一丝微笑。"如果你愿意,我可以教你。""她了。
Applejack's smile softened into a more natural one. "You know, sugarcube, I think I'd like that."
苹果杰克的微笑变得柔和而自然。"你知道吗,甜心,我想我会喜欢的。"
Erin perked up still further, her grin returning full force. "And, for what you can do with it, it plays music and movies and takes pictures. Oh, and I can show you something kind of neat, if you want?"
埃琳更加精神了,她的笑容也恢复了正常。而且,你可以用它来做些什么呢?它可以播放音乐、看电影、拍照。哦,如果你愿意的话,我可以给你看一些整洁的东西。"
Applejack nodded and passed the tablet over into Erin's waiting hooves. Her brow furrowed as she watched Erin pick up some black stick-like object with a strap on it out of the box. Her friend wrapped the strap around her hoof, and then start tapping on the tablet for a few seconds.
苹果杰克点点头,把平板电脑递给了正在等待的艾琳。她皱起眉头,看着埃琳从盒子里拿起一个带着皮带的黑色棍子样的东西。她的朋友把带子缠在她的蹄子上,然后开始轻敲平板电脑几秒钟。
She didn't even have time to start feeling impatient before Erin held up the tablet in front of her, with the apples on the back pointed right at AJ's face.
她还没来得及开始不耐烦,艾琳就拿起了平板电脑,背面的苹果正对着AJ的脸。
"Say something, Applejack," Erin said, her eyes gleaming with mischief.
"说点什么,苹果杰克,"艾琳说,她的眼睛闪烁着恶作剧的光芒。
Applejack shifted uncomfortably in her seat. "I ain't sure what you want me to say."
苹果杰克在她的座位上不安地移动着。"我不知道你想让我说什么。"
"I guess it doesn't matter," Erin said, tapping something on the screen in front of her. "I'm just showing you this. Here," she said, passing the tablet back over.
"我想这没什么关系,"艾琳说着,在她面前的屏幕上敲了敲。"我只是给你看这个。给,"她说着,把平板电脑递了过来。
AJ took it, and then the stylus with its strap when Erin passed that over as well. Erin told her to use the stick to tap the screen, so she did, giving a little jump when her own face showed up on the tablet.
AJ接了过来,然后艾琳也把手写笔和表带一起递给了他。艾琳告诉她用操纵杆轻敲屏幕,她照做了,当她自己的脸出现在平板电脑上时,她吓了一跳。
"Say something, Applejack," Erin's disembodied voice said from the tablet.
"说点什么,苹果杰克,"艾琳在平板电脑上说。
Applejack stared in shock at her own frowning face. "I ain't sure what you want me to say," her voice said, sounding too high-pitched and nasally to her ears.
苹果杰克吃惊地盯着她自己皱着的脸。"我不知道你想让我说什么,"她的声音说,听起来太尖太刺耳了。
Erin's voice spoke up one more time. "I guess it doesn't matter."
艾琳的声音又响了起来。"我想这无关紧要。"
And then the screen went dark. AJ stared at the tablet with a lot more respect. "This makes movies? Like, if I wanted to record ponies walkin' around and talkin' and such, I could do that?"
然后屏幕变暗了。AJ带着更多的尊重盯着平板电脑。"这使得电影吗?比如,如果我想录下小马走路和说话的样子,我能做到吗?"
"Yup!"
"是的!"
"Land's sake," Applejack said, already thinking ahead to the next Apple Family Reunion. If she could get a movie made of the event, it would be the first time in the Apple family's history! Too bad it had gotten her voice wrong, but maybe Erin could help fix that.
"看在土地的份上,"苹果杰克说,他已经在为下一次苹果家庭聚会做准备了。如果她能拍成电影,这将是苹果家族历史上的第一次!太糟糕了,她的声音出了问题,但也许艾琳可以帮她解决这个问题。
"Not only that, but once you guys get internet, you can share videos and pictures and stuff," Erin said. "Say, with family members?"
"不仅如此,一旦你们上网,你们就可以分享视频、图片和其他东西,"艾琳说。"跟家人一起?"
Applejack looked across the table at her friend, whose grin had turned sly. She chuckled and shook her head.
苹果杰克看着桌子对面她的朋友,她的笑容变得狡猾。她咯咯地笑着,摇了摇头。
"Well, I reckon this is a mighty fine gift, Erin." Applejack put the box down on the table and walked over to give Erin a great big hug, which was enthusiastically returned.
"嗯,我认为这是一份非常好的礼物,爱琳。苹果杰克把盒子放在桌子上,走过去给了艾琳一个大大的拥抱,得到了她热情的回应。
They were still hugging when loud, though muffled, laughter filtered down from the top of Sugarcube Corner. The two of them broke apart and shared a confused look.
他们还在拥抱,就在这时,从方糖角顶上传来了一阵虽然低沉但却很响的笑声。两人分手了,脸上露出困惑的表情。
"What the hay was that?" Applejack asked.
"那是什么干草?""苹果白兰地问道。
"I think it's Pinkie Pie," Erin said cautiously.
"我觉得是小粉派,"艾琳小心翼翼地说。
"She's been at it all day," Mrs. Cake said, with just a hint of exasperation as she came around to clear away the empty plates from the table.
"她已经干了一整天了,"蛋糕太太说,当她过来收拾桌子上的空盘子时,带着一丝恼怒。
Erin glanced upwards as more laughter pealed out from upstairs. "I think I figured out what Pinkie's 'research project' is," she said.
艾琳向上瞥了一眼,楼上传来了更多的笑声。"我想我知道了Pinkie的'研究项目'是什么,"她说。
~~*Erin*~~ ~ ~ *艾琳* ~ ~
Erin arrived home with a sigh, dropping her saddlebags next to her door as she walked inside. It had been a fun, though emotionally draining day, and she was looking forward to nothing more than a light snack and getting some sleep.
艾琳叹了口气回到家,走进家门时把她的鞍囊放在了门边。这是很有趣的一天,虽然让她情绪低落,她只希望能吃点零食,睡个觉。
Which reminded her that she still hadn't bought a bed.
这提醒了她,她还没有买床。
"Well, I guess it's the couch again," she muttered, yawning as she walked into her much-cleaner living room. There was so much more space with most of the boxes out and in the other rooms. So much so that it almost felt like an entirely different place.
"好吧,我猜又是沙发了。"她嘟囔着,一边打着哈欠走进干净得多的起居室。盒子放在外面和其他房间里的空间要大得多。以至于感觉像是一个完全不同的地方。
One last gift-wrapped box remained, propped next to Erin's fireplace where she'd left it earlier that day. Emotions tugged at her as she looked at it. One friend still hadn't received her present. And, given how that particular friend had never quite forgiven her for her spying mission to Ponyville, Erin wasn't sure if she ever would.
最后一个包装好的礼物盒还在,放在艾琳的壁炉旁,她那天早些时候就把它放在那里了。当她看着它的时候,她的感情在牵动着她。一个朋友还没有收到她的礼物。而且,考虑到那个特别的朋友从来没有完全原谅她在波尼维尔的间谍任务,艾琳不确定她是否会原谅她。
She frowned as she ran a hoof over the smooth wrapping paper, envisioning the bright yellow tablet with an open ledger painted onto its back. Then she sighed, turned, and went into the kitchen.
她皱起眉头,用蹄子踩着光滑的包装纸,想象着那块明黄色的写字板,背后画着一本打开的账本。然后她叹了口气,转身走进厨房。
Tomorrow was early enough to worry about that, she decided.
她断定,明天就该担心了。