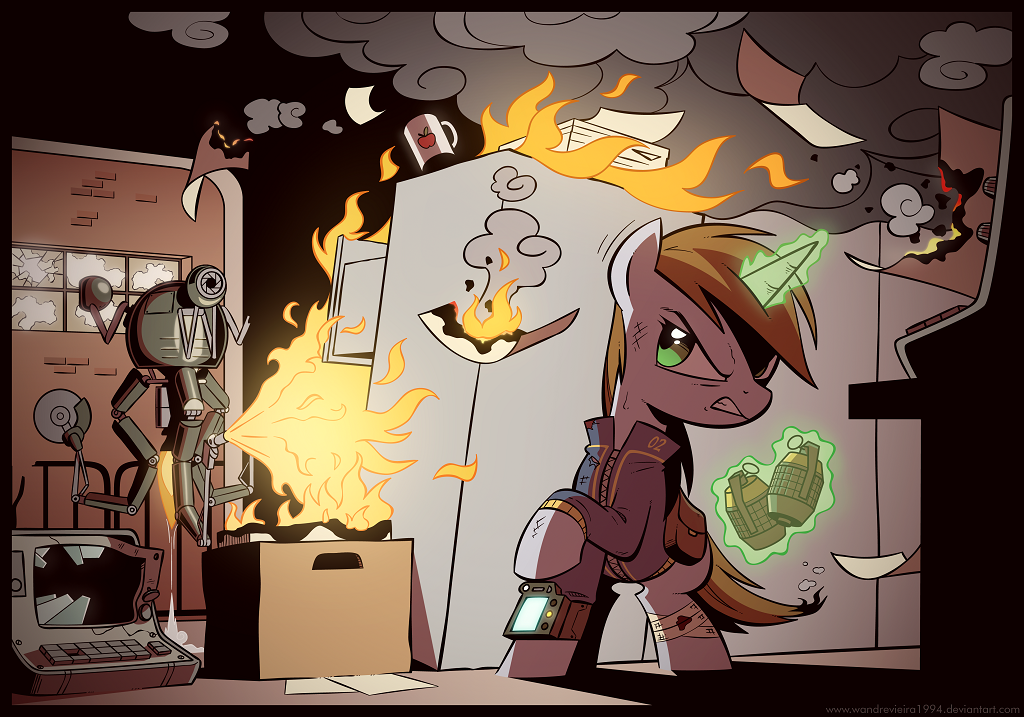 Sealevel
(中英对照)代号向日葵∶谐波计划(全篇机翻)
Chapter 02: Back on her hooves 第二章:回到她的小马国
关于本章
chrome_reader_mode 共 35,293 字
event 于 9 天前 发表
visibility 共 32 人读过
forum 共 0 条评论
A jet-black highway wound its way through the forested hills, past the pines and undergrowth. An elderly hybrid Ford Escape, dented and dinged but well-maintained, drove up the road at just over the posted speed limit. Spring had come to most of the country, but the mountains were fighting back. The higher the driver went, the more snow there was. It was as if he were driving back in time, back into winter.
一条漆黑的公路蜿蜒穿过森林覆盖的山丘,经过松树和灌木丛。一辆年久失修的混合动力车"福特逃逸"(Escape)虽然坑坑洼洼,但保养得很好,以刚刚超过限速的速度行驶在公路上。春天已经来到了这个国家的大部分地区,但是群山在反击。司机爬得越高,雪就越多。他仿佛回到了过去,回到了冬天。
The road was mostly empty, so nobody was around to hear the deep bass thumping from inside the Escape. The driver, a middle aged man with a grey-streaked beard, short brown hair and thick-rimmed glasses, was singing along with the song on the radio. It was a song he'd loved as a child, and he belted out the lyrics as loudly and joyfully as he could. If anyone had been listening, they would have been informed that, though he might get knocked down, he'd get up again, and, in fact, they were never going to keep him down.
路上几乎空无一人,所以周围没有人听到从逃生舱里传来的低沉的砰砰声。司机是个中年人,留着灰白的胡子,棕色的短发,戴着一副厚框眼镜,正跟着收音机里的歌唱着。这是一首他小时候喜欢的歌,他尽可能大声、欢快地唱出歌词。如果有人听到了,他们就会被告知,虽然他可能会被打倒,但他会站起来,而且,事实上,他们永远不会让他倒下。
The song was just wrapping up when the signs began to appear. Signs stating that further travel was restricted without permission, signs stating no trespassing, signs stating the legal, and potentially fatal, consequences for ignoring the other signs and, finally, a sign warning him to slow the vehicle down just as the large grey concrete wall came into view.
这首歌刚唱完,征兆就出现了。标志上写着未经许可不得继续行驶,标志上写着禁止擅自进入,标志上写着合法的,可能是致命的,无视其他标志的后果,最后,标志上写着警告他减慢车速,就在这时,那堵灰色的水泥墙出现了。
The driver slowed to a stop next to the gatehouse set into the concrete wall. The guard, a serious-faced young man in a black suit, asked the driver his purpose, and then asked for his ID. When the driver passed it over, he noticed that the young man had a holstered sidearm under his jacket, though he didn't know guns well enough to place the type.
司机在水泥墙下的门房旁减速停车。卫兵,serious-faced穿着黑西服的年轻人,问司机他的目的,然后要求他的ID。当司机通过,他注意到这个年轻人有一个枪套侧投球的在他的夹克,虽然他不知道枪足以把类型。
The guard consulted with someone over a radio. A few seconds passed before the reply came, after which the guard passed the ID back and entered a combination into a keypad. The metal gate blocking the road rolled to one side and the driver started moving again.
卫兵通过无线电与某人商量。过了几秒钟,警卫才收到回复,接着他把身份证递了回去,在键盘上输入了密码。挡在路上的铁门滚到一边,司机又开始移动。
He followed the signs to the visitor's parking lot, which was the size of a football field and nearly empty, allowing him to pull in very close to the main entrance of the compound. He killed the ignition and finally got out to stretch. His clothes were deeply creased and uncomfortable after the hours he'd spent driving. He gave them a quick adjustment while studying the compound.
他顺着指示牌来到访客的停车场,停车场有一个足球场那么大,几乎是空的,这让他能够把车停在离院落正门很近的地方。他熄了火,最后出来伸伸懒腰。他的衣服在他开了几个小时的车之后变得皱巴巴的,很不舒服。在研究化合物的过程中,他给了他们一个快速的调整。
The Visitor Center had only been halfway completed the last time he'd been out here. The work had obviously continued over the winter, and now the asymmetrical glass-faced pyramid shone like a diamond in the snow, glittering in the early afternoon sun. Five stories high at its peak, the building contained the administrative wing of Project Harmonics as well as the more luxurious apartments, intended for use by visiting VIPs.
他上次来这里的时候,游客中心才建了一半。显然,整个冬天都在施工,现在这座不对称的玻璃面金字塔像雪中的钻石一样闪闪发光,在午后的阳光下闪闪发光。该建筑有五层楼高,包含了项目的行政用房和更豪华的公寓,供来访的贵宾使用。
Behind the shining Visitor Center were the original Harmonics buildings. Though none of them were over two stories, they were wide and sprawling, covering most of the ground between the high walls surrounding the compound. That was where the real work took place, in the cinderblock-walled buildings that had been constructed hastily a few years earlier and were now much too important to replace with something that looked nicer.
在闪亮的游客中心后面是原始的和谐建筑。虽然它们都没有超过两层楼,但它们都很宽,而且在院子周围的高墙之间,占据了大部分的地面。真正的工作是在这里进行的,在煤渣砖砌的房子里,这些房子是几年前匆忙修建的,现在已经太重要了,不能用看起来更好的东西来取代。
Once he'd rearranged himself to his satisfaction, the traveler reached into the back seat to pull out his travel bag. He made his way inside the crystalline building, walked straight up to the receptionist desk and smiled, pulling out his ID before the young man behind the desk could ask for it.
当他把自己重新安排到满意的位置时,旅行者把手伸进后座,拿出了他的旅行包。他走进水晶般透明的大楼,径直走到前台,面带微笑地拿出自己的身份证,然后柜台后面的年轻人就可以向他要了。
"Hi," the man said. "I'm John Olsen, and I'm here to see my daughter, the pony."
"嗨,"那人说。"我是约翰·奥尔森,我来这儿看我的女儿,那匹小马。"
~~*~~
Erin Olsen's nose twitched, slowly coming to recognize the smell of disinfectant and flowers in the air. As she became more alert, awareness filtered in that her mouth tasted like something very sick had crawled into it and died. Her other senses started checking in, the familiar beeps of medical equipment and the feeling of bed sheets around her making her realize that she was awake, and that she must be in the medical wing once again. Her eyes fluttered open and stared blankly at the white-tiled ceiling for almost a full minute before flitting around the room, eventually landing on her mother, who was sitting in a large chair next to her bed and focused on her knitting.
艾琳·奥尔森的鼻子抽动了一下,慢慢地闻到了空气中消毒剂和鲜花的味道。当她变得更加警觉的时候,意识到她的嘴里有一种很恶心的东西爬进去死了的味道。她的其他感官开始检查,熟悉的医疗设备的哔哔声和床单在她周围的感觉让她意识到她醒了,她一定又在医务室了。她睁开眼睛,茫然地盯着白色的天花板看了将近一分钟,然后在房间里转来转去,最后落在她母亲身上,她母亲正坐在床边的一把大椅子上,全神贯注地在织毛线。
"Hi, Mom," Erin managed to croak. Her voice obviously startled her mother, because the older woman jumped and squeaked in surprise, nearly stabbing herself with her own knitting needle. Erin couldn't help but chuckle.
"嗨,妈妈,"艾琳勉强用沙哑的声音说。她的声音显然让她母亲吃了一惊,因为那个老妇人吓得跳了起来,尖叫着,几乎用自己的编织针扎破了自己。艾琳忍不住笑了起来。
"Erin!" The knitting was quickly stuffed into her mother's large purse. Lynne stood and bent over her, stroking her mane. "How are you feeling?"
"艾琳!毛线很快就塞进了她妈妈的大钱包里。琳恩站在她身边,抚摸着她的鬃毛。"你感觉怎么样?"
"Thirsty," Erin replied weakly while hoping that her breath wasn't too terrible. Lynne responded by pouring a glass of water for her and holding it so that Erin could drink.
"渴了。"艾琳虚弱地回答,希望自己的呼吸不会太糟。琳恩给她倒了一杯水,拿着让艾琳喝。
"Now how do you feel?" Lynne asked, after Erin's third glass of water.
"现在你感觉怎么样?"艾琳喝完第三杯水后琳恩问道。
"Rolled out and stretched too far," Erin complained. "Tired. Achy. It's probably the sedatives." She nodded vaguely at the IV line taped to her left foreleg. Light brown and fuzzy, once again. She would have pointed using her other foreleg, but she was strapped firmly to the bed. Her mother frowned when she saw where Erin's eyes were looking.
"滚出去,伸展过度,"艾琳抱怨道。"累了。疼痛。可能是镇静剂的问题。她对着绑在左前腿上的静脉注射线茫然地点点头。又是浅棕色和毛茸茸的。她会用另一条前腿指着,但她被牢牢地绑在床上。当她妈妈看到艾琳的目光时,皱起了眉头。
Her mother was wearing an unhappy frown. "I really hate seeing you strapped down like that."
她母亲愁眉苦脸的。"我真的很讨厌看到你被绑成那样。"
Erin's shoulders twitched in what would have been a shrug if she hadn't been strapped to her bed. "I'm not quite 'done' when they take me out of the vat, I guess." She tried to say that casually, as if it didn't bother her to say that. "If I move around too much before everything 'sets', I could really damage my muscles and joints. They have to restrain me and keep me under so I don't thrash and hurt myself before my brain gets used to my new body."
艾琳的肩膀抽动了一下,如果不是被绑在床上,她可能会耸耸肩。"我想,当他们把我从桶里捞出来的时候,我还没有完全'完成'呢。她试图漫不经心地说出这句话,好像她说这话并不会感到厌烦似的。"如果我在所有东西'定型'之前动得太多,我的肌肉和关节就会受到伤害。他们必须约束我,控制我,这样在我的大脑适应我的新身体之前,我就不会抽打和伤害自己。"
"That's what the nurse said," Lynne replied, sounding as if she wasn't sure she believed it. Then she brightened. "Oh! Just so you know, it looks like everything came out the way it was supposed to."
"那是护士说的,"琳恩回答,听起来好像她不确定自己是否相信。然后她点亮了。"哦!就像你知道的,看起来一切都按照预期的方式进行。"
Erin's muzzle twitched into a relieved smile. "Good, I'm glad. I don't want to have to do this again for a while."
埃琳的嘴抽动了一下,露出了宽慰的微笑。"好,我很高兴。一段时间内,我不想再这样做了。"
She let her head flump back down into her pillow. She was lying on her back, which was an unexpectedly uncomfortable feeling for her. Twin lumps along her spine pressed into her, pinned tightly by bandages that enveloped her chest. The lumps itched, twitching independant of her will while giving her brain fits trying to figure out where the sensations were coming from. All of which prompted her to ask, "Wings turned out okay?"
她的头耷拉着落在枕头上。她仰面躺着,这对她来说是一种出乎意料的不舒服的感觉。她的脊柱上有两个肿块,紧紧地压在她身上,被包裹着她胸部的绷带紧紧地钉住。这些肿块不依赖于她的意志,痒得抽搐,让她的大脑一阵痉挛,试图弄清楚这些感觉来自哪里。这一切促使她问道:"翅膀长得还行吧?"
"They tell me your wings are fine, dear." Her mother was smiling, still stroking her mane. "They're about the same color as your coat. Your horn turned out fine, too."
"他们告诉我你的翅膀很好,亲爱的。她的母亲微笑着,仍然抚摸着她的鬃毛。"它们的颜色和你的外套差不多。你的角也长得很好。"
"Oh, yeah!" Erin crossed her eyes and looked up. She could just make out the tip of the spiraled horn jutting out of her forehead. Idly, she tried to will the now empty glass by her bedside to raise into the air. Nothing happened. "I hope they got it right this time."
"哦,是啊!艾琳交叉着眼睛,抬起头。她只能辨认出从她前额伸出的螺旋形角的尖端。她懒懒散散地想把床边已经空了的杯子举起来。什么也没有发生。"我希望他们这次做对了。"
"I'm sure they did." Lynne patted her on her shoulder. "Oh, your father just arrived. He wanted to take a shower before he saw you, which is a good thing. He was a little ripe from the drive out."
"我相信他们是这么做的。琳恩拍了拍她的肩膀。"哦,你父亲刚到。他想在见到你之前洗个澡,这是件好事。他从车里出来,有点熟了。"
Erin giggled at that.
艾琳对此咯咯地笑了起来。
"I think we should get these restraints off of you." Lynne stood up, leaving her purse behind on her chair. "I'll go get the nurse, okay?"
"我想我们应该把这些束缚从你身上取下来。琳恩站了起来,把钱包留在了椅子上。"我去叫护士来,好吗?"
"'Kay," Erin mumbled as her eyes slowly closed again. She didn't realize she'd drifted off until she felt a tugging at her lower legs. Her eyes fluttered open to see a grey-haired male nurse loosening the strap around her back left leg.
"加伊。"艾琳喃喃地说,眼睛又慢慢闭上了。直到她感到有人拉她的小腿,她才意识到自己已经睡着了。她睁开眼睛,看到一个灰白头发的男护士正在松开绑在她左腿后面的皮带。
Erin smiled woozily at him. "Thanks."
艾琳对他傻笑了一下。"谢谢。"
The nurse glanced up at her and smiled. "No problem, kiddo. I've already sent out the word to let everyone know that you're awake, so you may be getting some more guests soon. Just let me know if you start feeling overwhelmed and I'll kick them out, okay?"
护士抬头看了她一眼,笑了。"没问题,老姐。我已经发了消息让大家知道你醒了,所以你可能很快就会有更多的客人。如果你开始感到不知所措,就告诉我,我会把他们赶出去,好吗?"
He winked, which got Erin giggling as she thanked him. As soon as he left, Erin began to push herself out of bed, waving off her mother's offer of help.
他眨了眨眼,艾琳一边感谢他,一边咯咯地笑起来。他一离开,艾琳就开始从床上爬起来,拒绝妈妈的帮助。
"It's important I figure out how to do this stuff myself, Mom."
"妈妈,重要的是我要自己想出做这些事情的方法。"
"Fine, you can do what you like," Lynne said, pulling out her knitting and sitting back down.
"好吧,你爱怎么做就怎么做,"琳恩说着,拿出她的毛线活儿,又坐了下来。
Erin hesitated, having managed to get her back hooves onto the floor with the rest of her still up on the bed. She glanced over to see her mother sitting in her chair and scowling while attacking her knitting. Judging by the tone of voice and the unhappy expression, Erin decided that her mother was in "help my child" mode and was upset at having her help denied.
艾琳犹豫了一下,她设法让自己的蹄子落在了地板上,而身体的其他部分还在床上。她瞥了一眼,看见母亲坐在椅子上,一边皱着眉头,一边在打她的毛线活儿。从她的语气和不高兴的表情判断,艾琳认为她的母亲是在"帮助我的孩子"的模式,她的帮助被拒绝了,她很生气。
"I could probably use some help brushing out my mane and tail, though," she offered. "It's too much to handle by myself when I first wake up after being changed."
"不过,我可能需要有人帮我梳理一下鬃毛和尾巴,"她说。"当我第一次在被改变后醒来时,这对我来说太难了。"
Lynne's eyes flicked up at the tangled mess on Erin's head and smiled. "I guess I don't mind," she said, satisfied.
琳恩的眼睛向上一闪,看到艾琳头上乱糟糟的头发,她笑了。"我想我不介意,"她满意地说。
Erin started staggering around the tiny hospital room, both to stretch out her muscles and to get used to being a pony again. Her mother pretended to be knitting, though her hands rarely moved and Erin would catch her looking over with both concern and amusement as she stumbled awkwardly around the room..
艾琳开始在狭小的病房里蹒跚而行,这既是为了伸展她的肌肉,也是为了重新适应做一匹小马。艾琳的妈妈假装在织毛线,但她的手却很少动。她在房间里东张西望,显得既担心又开心。
"How is it?" Lynne asked after a few minutes.
"怎么?琳恩几分钟后问道。
"Easier than the first time." Erin flinched as her left wing suddenly flung itself open without any apparent input from her brain. She glowered at the offending appendage. I didn't tell you to open, damn it, she thought. "That is going to take some getting used to, though."
"比第一次容易。艾琳畏缩了一下,因为她的左翼突然打开了,没有任何明显的来自她大脑的输入。她怒视着令人讨厌的附属肢体。我没叫你打开,妈的,她想。"不过,这需要一些时间来适应。"
"You'll get it," her mother said with a confidence that Erin didn't feel.
"你会成功的,"她母亲自信地说,而艾琳却没有这种感觉。
Erin grunted in frustration as she tried to force the wing closed again. It stubbornly ignored her. Eventually she just gave up and started walking in small, tight circles again.
艾琳沮丧地哼了一声,试图再次关闭机翼。它固执地不理她。最后她放弃了,又开始绕着小圈走。
"You know what the most frustrating thing is, though?" she asked her mother after a while.
"不过,你知道最让人沮丧的是什么吗?"过了一会儿,她问妈妈。
"Hmm? What's that?"
"嗯?那是什么?"
"I keep wanting to spread my fingers and toes, and I can't. It's really annoying."
"我一直想伸开我的手指和脚趾,但我做不到。真的很讨厌。"
Lynne made a sympathetic noise, but kept her focus on her knitting. That is, up until the door opened. Erin glanced up to see a mint-green unicorn framed in the doorway, panting and slightly out of breath.
琳恩同情地叫了一声,但仍然专注在编织上。也就是说,直到门打开。埃琳抬头瞥了一眼,看到门口有一只薄荷绿色的独角兽,气喘吁吁,有点喘不过气来。
"Erin!" Lyra blurted out. "You're awake!
"艾琳!莱拉脱口而出。"你醒了!
Erin offered her friend a smile. "Hi, Lyra."
艾琳对她的朋友笑了笑。"嗨,莱拉。"
"Hi Lyra," Lynne echoed, causing the unicorn to jump. Apparently, Lyra hadn't seen her sitting there.
"你好莱拉,"琳恩回应道,让独角兽跳了起来。显然,莱拉没有看见她坐在那里。
"Lynne!" Lyra smiled, sounding genuinely pleased. "I didn't know you were back!"
"琳!莱拉笑了,听起来真的很高兴。"我不知道你回来了!"
"I flew in yesterday, just in case Erin woke up early."
"我昨天乘飞机来的,只是为了以防埃琳醒得早。"
"Oh, that makes sense."
"哦,有道理。"
Erin had just completed another lap past her window and was on her way back towards the door. "So, how's work?" she asked.
埃琳刚刚又跑了一圈,经过了她的窗口,正朝门口走去。"所以,工作怎么样?"她问道。
"Frustrating." Lyra rolled her eyes. "Also, fascinating. But never mind that." She waved a hoof dismissively. "Can you sense it?"
"令人沮丧。莱拉翻了个白眼。"此外,引人入胜。不过没关系。她轻蔑地挥了挥手。"你能感觉到吗?"
"Sense..? Oh! I…" Erin's attention focused on the torc the unicorn was wearing. "I think so? I feel… it's like there's a sort of warm glow coming from it."
"感觉. . ?哦!我……"艾琳的注意力集中在独角兽身上的托克上。"我想是这样的吗?我感觉……好像有一种温暖的光芒从里面散发出来。"
"Yes!" Lyra pumped a hoof in the air. "That's it! They did it!" A grin spread across her muzzle. "Welcome to the world of magic, Erin!"
"是啊!莱拉在空中踢了踢蹄子。"就是它!他们做到了!她咧嘴一笑。"欢迎来到魔法世界,埃琳!"
Erin's left wing snapped closed followed by both wings opening partially, the feathers ruffling, though she wasn't aware of it. Instead, all of her attention was focused on the warm glow coming from the torc around Lyra's neck. A slightly dopey smile stretched across her face.
艾琳的左翼啪地一声合上,然后两翼半张开,羽毛竖起来,但她没有意识到。相反,她所有的注意力都集中在莱拉脖子周围的托克上。她脸上掠过一丝呆滞的微笑。
"Awesome," she said dreamily.
"太棒了,"她梦一般地说。
~~*~~
The tub and shower unit had been specially designed and at one time had been unique in the Harmonics compound. It was deep enough for Erin to stand in and still have the water come up to her withers, wide enough that she could turn around if she felt like it, and it had steps on one end so that she could get in and out without assistance. After diplomatic relations with Equestria had officially started, Maggie Henson had commissioned the building of over a dozen "pony suites", which included pony-style bathrooms taken from the footage of Erin's stay in Ponyville.
浴缸和淋浴单元是专门设计的,一度在谐波化合物是独特的。它的深度足以让埃琳站在里面,水还能流到她的肩胛骨;它的宽度足以让她在想转身的时候转身;它的一端有台阶,这样她就可以不用别人的帮助进出了。在与小马国的外交关系正式开始后,玛吉·汉森委托建造了十多间"小马套房",其中包括从艾琳在波尼维尔的视频中拍摄的小马式浴室。
Erin soaked in the tub until the hot water stopped steaming and started turning cool. Her mother sat on a stool next to the tub, talking through the latest family news. Erin was only listening with half an ear as her mom rattled on about cousins, nieces and nephews, marriages, fights and reconciliations amongst the family. The hot water felt far too good for her to be able to pay attention, and the remnants of the sedatives made her groggy enough to nearly nod off.
艾琳一直泡在浴缸里,直到热水停止冒气,开始变凉。她母亲坐在浴盆旁边的凳子上,讲述着最新的家庭新闻。当艾琳的妈妈喋喋不休地谈论她的堂兄弟姐妹、侄子侄女、婚姻、争吵以及家庭内部的和解时,艾琳只是侧耳倾听。热水太好喝了,她根本无法集中注意力,残留的镇静剂让她昏昏沉沉,几乎要睡着了。
Becoming a pony again felt familiar and odd at the same time. The new wings might have had something to do with that, but her body overall felt different than her first time as a pony. Less awkward in some ways, and more graceful, but weaker. Her coat felt softer and her mane flowed differently, even though it looked pretty much the same. The water was soaking between the feathers, giving her goosebumps and causing an unfamiliar ticklish sensation that set Erin's teeth on edge.
再次变成一匹小马的感觉既熟悉又陌生。新的翅膀可能与此有关,但她的身体整体感觉与她第一次做小马时不同。在某些方面不那么笨拙,更优雅,但更软弱。她的外套感觉更柔软,鬃毛也不一样,尽管看起来几乎一样。海水浸泡在羽毛之间,让她起了鸡皮疙瘩,产生了一种不熟悉的痒的感觉,让艾琳的牙齿感到紧张。
As if thinking about them had triggered the reaction, both of her wings snapped open widely, the tips banging into the sides of the tub and causing Erin to yelp in surprise and pain.
好像是想到了它们才引起了她的反应,她的两只翅膀猛地张开,翅膀尖撞到了浴缸的两侧,让艾琳在惊讶和痛苦中尖叫起来。
"Oh, that's really going to get old." Erin scowled as she tried to close a wing by pressing on it with a hoof. It refused to close, springing back open every time she let up on the pressure.
"哦,那真的会变老的。艾琳皱着眉头,试图用蹄子按住翅膀。每当她放松压力的时候,它就会弹开。
"You're alright, dear?" Lynne asked.
"你好的,亲爱的?"琳问道。
"Yeah. It's just… weird, I guess. Having new body parts, I mean."
"是的。只是…我觉得很奇怪。我的意思是,拥有新的身体部位。"
"You're not used to that? What with being a pony and all?"
"你不习惯吗?"当一匹小马和其他一切有什么用?"
Erin shrugged as she started climbing out of the now tepid water. She nabbed a nearby towel in her teeth, transferred it to her hooves and started drying herself off. "No, not really. I mean, when I first changed, everything had an analogue. Like, my front legs and my arms were pretty much the same, and so on."
艾琳耸了耸肩,开始爬出已经不温不火的水。她咬住旁边的一条毛巾,把它套在蹄子上,开始擦干身子。我是说,当我第一次改变的时候,一切都有相似之处。比如,我的前腿和胳膊几乎一模一样,等等。"
"What about your tail?" Lynne asked as she reached over to the nearby countertop for the Equestrian-made mane comb and brush that Maggie had placed in every pony suite.
"你的尾巴呢?"琳恩问,她伸手到附近的工作台上拿马鬃梳子和马鬃刷子,那是马吉放在每个小马套间里的。
"I more or less ignored that and let it do its own thing." Erin shrugged and smiled. "There's less to a tail than you might think. Though, yeah, that did feel weird at first. These wings, though…" Erin frowned at them. For some reason, they were half-extended and refused to fold nicely alongside her body. "It's just really annoying having parts of you that you can't really control, you know?"
"我或多或少地忽略了这一点,让它自己去做它自己的事情。艾琳耸了耸肩,笑了。"尾巴比你想象的要少。不过,是的,一开始确实感觉很奇怪。可是这些翅膀……"艾琳皱起了眉头。出于某种原因,它们被拉长了一半,并拒绝与她的身体完美地贴合在一起。"你无法真正控制自己的某些部分,这真的很烦人,你知道吗?"
Lynne smiled as she motioned for her daughter to sit down in front of her. Erin complied, and the older woman started running the comb through her mane. Erin tried to keep her flinching to a minimum, but there were too many tangles for things to go painlessly.
琳恩微笑着示意女儿坐在她前面。艾琳照做了,年长的女人开始梳理她的鬃毛。艾琳尽量不让自己退缩,但太多的混乱让事情变得毫无痛苦。
"I should just cut it all off," Erin grumbled after the fifth time the comb caught on a snarl.
"我应该把它全剪了。"爱琳嘟囔着,梳子第五次发出刺耳的声音。
"Don't you dare!" Lynne said, aghast. "It's too nice to cut it off."
"你敢!琳恩吃惊地说。"剪掉它太好了。"
"It would grow back," Erin replied defensively. "Besides, short manes are a valid style."
"它会长回来的。"艾琳辩解道。"此外,短发也是一种有效的发型。"
"Just a little patience and your mane will look lovely, dear."
"只要一点点耐心,你的鬃毛就会很可爱,亲爱的。"
"Okay, fi—ouch!"
"好吧,fi-ouch !"
"Sorry, that was a bad one."
"对不起,那是一个糟糕的。"
Erin sighed and resolved herself to putting up with the discomfort.
艾琳叹了口气,决定忍受这种不舒服。
"Do we need to do anything with your wings?" Lynne asked eventually. "The feathers are looking a bit rough."
"我们需要对你的翅膀做些什么吗?"琳恩最后问道。"羽毛看起来有点粗糙。"
"Um…" Erin glanced down at one wing. The feathers definitely weren't laying down as neatly as she was used to seeing on pegasi. "I really don't know. I'll ask Rainbow or Fluttershy about it when I get back to Ponyville."
"嗯……"艾琳低头看了一眼一侧机翼。羽毛肯定没有她在帕伽西上看到的那样整齐。"我真的不知道。等我回到波尼维尔去的时候,我要问问彩虹或者福尔特吉。"
The combing stopped for a few seconds while Lynne leaned forward and hugged her still slightly-damp daughter. "I'll miss you, sweetie."
梳理停止了几秒钟,琳恩身体前倾,抱住了她仍然有点潮湿的女儿。"我会想你的,亲爱的。"
"Aw, Mom." Erin leaned her head back until her cheek rested alongside her mother's. "We can definitely visit. I'd want you to come out to Ponyville some time, at least. And maybe I can even have my friends come out to Minnesota!"
"噢,妈妈。艾琳把头向后仰,脸颊贴着母亲的脸颊。"我们肯定能去。我希望你至少什么时候能来波尼维尔。也许我甚至可以让我的朋友们到明尼苏达来!"
"I know, I know." Lynne released her daughter and, sniffling a little, picked up the brush and started smoothing out the mane with long, firm strokes. "It's just… everything is so different, now. You've gone and grown up on me… not to mention the whole pony thing. It would be nice to have your friends visit, though."
"我知道,我知道。琳恩放开她的女儿,轻轻地抽了抽鼻子,拿起刷子,开始用长而有力的笔触抚平鬃毛。"只是……现在一切都不一样了。你在我身边长大了,更别提小马的事了。不过,要是你的朋友们能来,那就太好了。"
"Yeah!" Erin perked up a little as she thought about it. "I know Pinkie would love to come, and Twilight. Fluttershy would probably want to stay at home, but Rarity might come along. Rainbow and AJ could go either way, though."
"是啊!想到这里,埃琳高兴了一下。"我知道小品会很乐意来的,还有《暮光之城》。Fluttershy可能想呆在家里,但可能会遇到稀罕的事情。不过,彩虹和AJ都有可能。"
"I suppose you'll have to go to Canterlot in order to call us and make arrangements," her mother said. "Kind of a bother, really."
"我想,为了给我们打电话做安排,你得去坎特洛特,"她母亲说。"有点麻烦,真的。"
Erin hummed lazily. The brushing felt really good. "They're working on it. They're using the old surveillance drones as relays between Ponyville and Canterlot, so I should be able to get a connection to the internet whenever the gateway is open. I could call or message you then."
艾琳懒洋洋地嗡嗡作响。刷牙的感觉真的很好。"他们正在努力。他们用老式无人侦察机作为波尼维尔和坎特洛特之间的中转站,所以只要大门一打开,我就能连接到互联网。到时候我可以给你打电话或发短信。"
"Oh! That's wonderful!"
"哦!那太好了!"
"Yeah… that's one thing that took a while to get used to, staying there the first time. No internet!" Erin chuckled. "I wasn't able to check my email for a couple of months."
"是的……第一次待在那里,我花了一段时间才习惯。没有互联网!"艾琳咯咯地笑了。"我有好几个月没能查收邮件。"
"I'm amazed you survived." Her mother's voice was droll. "So, we get to hear from you once a month."
"你能活下来,我很惊讶。她母亲的声音很滑稽。"所以,我们每个月都能收到你的来信。"
She sounded sad, and if Erin hadn't still been slightly damp at that moment, she would have given her mother a hug.
她的声音听起来很悲伤,如果当时艾琳还没有被淋湿的话,她会给妈妈一个拥抱。
"The Princesses are talking about going to a twice a month or weekly schedule soon," Erin reminded her. "It won't be as bad as all that.
艾琳提醒她说:"公主们都在说,很快就会有一个月两次或一周一次的健身计划。""事情不会那么糟。
Lynne made a noise of agreement and continued brushing. Erin, meanwhile, let her mind drift, idly attempting to make her wings do what she wanted them to do. They would twitch sometimes, but she couldn't get them working quite right. It was frustrating in the same way as trying to pick a penny up off of a flat surface while wearing heavy gloves; she'd almost feel like she was getting control just for the wings to either go non-responsive or start to spasm.
琳恩表示同意,继续刷牙。与此同时,埃琳让自己的思绪飘忽不定,懒懒散散地试图让她的翅膀做她想让它们做的事情。它们有时会抽动,但她无法让它们正常工作。这就像戴着厚厚的手套从平坦的地面捡起一枚硬币一样令人沮丧;她几乎会觉得她在控制着机翼,要么失去反应,要么开始痉挛。
Eventually, her mane and tail were as brushed as they could be, and she was reasonably dry. Lynne put the brush and comb back on the bathroom counter and stood up.
最后,她的鬃毛和尾巴尽可能地梳理过了,她也相当干了。琳恩把刷子和梳子放回浴室柜台上,站了起来。
"Let's go see your father," she said with a smile.
"我们去看看你父亲吧,"她笑着说。
~~*~~
John was sitting on his daughter's bed in her hotel-style room, flipping through the news channels on the wall-mounted TV and desperately hoping to find something that didn't remind him of Erin's upcoming move back to Equestria.
在女儿下榻的酒店房间里,约翰坐在她的床上,一边翻着壁挂式电视的新闻频道,一边绝望地希望能找到一些不会让他想起艾琳即将回到小马国的东西。
So far, it was proving to be exceedingly difficult.
到目前为止,这证明是非常困难的。
"Word came from the newly-established Equestrian embassy in New York that the exchange rate has been finalized, and will be based off of the price of gold in order to—" *click* "—were seen in shopping centers around the world. The ponies, calling themselves 'Goodwill ambassadors', seemed more focused on shopping than—" *click* "—once again a pony, and will be moving to Equestria to—" *click* "—a sort of cultural exchange, where human students will go to Equestria, and ponies will come to Earth, attending school while learning—"
纽约新成立的马术大使馆传来消息说,汇率已经最终确定,并将以黄金价格为基础,以便——"*点击*"——在世界各地的购物中心都可以看到。小马们自称为"亲善大使",似乎更专注于购物,而不是"咔嚓"——又是小马,它们将前往小马国——"咔嚓"——一种文化交流,人类学生将前往小马国,小马将来到地球,一边上学一边学习——"
John shut off the TV with a sigh and stood up, making his way to Erin's kitchenette. He cracked the fridge door open, scowled briefly at the contents and finally pulled out a plastic jug of orange juice. He poured himself a glass and was halfway through drinking it when he heard the bathroom door open.
约翰叹了口气,关上电视,站起身,朝艾琳的小厨房走去。他打开冰箱门,对里面的东西怒目而视,最后拿出一塑料罐橙汁。他给自己倒了一杯酒,刚喝了一半,就听见浴室的门开了。
His brain went fuzzy for a second when he saw the pony who, intellectually at least, he knew was his daughter. Emotionally, he was having as hard a time as ever accepting it.
当他看到那匹小马时,他的大脑顿时变得模糊起来,至少在智力上,他知道那是他的女儿。在感情上,他和以前一样难以接受。
She looked much like she did the last time she'd been a pony. Small, fragile looking, with a light brown coat. Her sunflower mark almost seemed to shine, looking more real than any tattoo he'd ever seen. The hair of both her mane and tail, still damp from washing, hung down straight and flat, looking darker than the auburn he knew it would be when it dried out. Bright, pine green eyes sought him out, and a happy smile split her muzzle.
她看上去很像她上次当小马时的样子。娇小,易碎,有一件浅棕色的外套。她身上的向日葵印记几乎闪闪发光,比他见过的任何纹身都要逼真。她的鬃毛和尾巴上的头发,洗过以后还是湿漉漉的,直直地垂下来,看上去比晒干后的红褐色还要黑。明亮的松绿色的眼睛找到了他,幸福的微笑打破了她的嘴。
"Hi, Dad!" Erin smiled cheerfully. "Did you have a good trip?"
"嗨,爸爸!艾琳高兴地笑了。"你旅途愉快吗?"
"Uh. Yeah, it was okay." John looked away, focusing on some random spot on the wall. The situation already felt surreal. Time to introduce some normality, then. "You think you could put something on?"
"嗯。是的,还好。约翰把目光移开,集中在墙上的某个地方。局势已经让人感到不真实。那么,是时候引入一些常态了。"你觉得你可以穿点什么吗?"
Erin grunted and rolled her eyes at him. "Jeeze, Dad. Why does it bother you so much if I don't wear clothes when I'm a pony? You don't get like this around Equestrian ponies."
艾琳哼了一声,朝他翻了个白眼。"天哪,爸爸。我小的时候不穿衣服,你为什么这么烦?你在骑马的小马周围是不会这样的。"
"Equestrian ponies aren't my daughter," John answered reasonably. "Please?"
"骑马的小马不是我的女儿,"约翰理理地回答。"好吗?"
"Ugh, fine." John knew his daughter well enough to know that the frustration in her voice was laced with at least a little amusement.
"哎,好。约翰很了解他的女儿,他知道她声音里的沮丧中至少夹杂着一点娱乐。
As his daughter trotted over to her closet to rummage for something to wear, John smiled at his wife. "How'd it go?" he asked her.
当他的女儿跑到她的衣橱去找衣服穿的时候,约翰对他的妻子笑了。"它怎么去?他问她。
"Pretty good." Lynne shrugged. "I sort of promised that we'd come out to visit in a month or two."
"很好。"琳耸耸肩。"我差不多答应过一两个月后我们会出来看看。"
"Uh, okay. That's fine, I guess" John scratched his head and started thinking about vacation times and upcoming projects at work when his wife spoke again.
"呃,好吧。约翰挠了挠脑袋,开始考虑假期和工作上要做的事情。这时,他妻子又说话了。
"And I said that she can come out to the house with her friends any time she likes. She's hoping she can come out this summer."
"我还说,只要她愿意,随时都可以和她的朋友们到家里来。她希望今年夏天能出来。"
"Huh… Well, okay. That may be a little bit of a media circus, though. I mean, considering who her friends are." John grimaced and added, "Damned paparazzi. Still watching our house like we're famous or something."
"嗯…好吧,好吧。不过,这可能有点像媒体的马戏表演。我是说,考虑到她的朋友是谁。约翰扮了个鬼脸,补充道:"该死的狗仔队。"还在看我们的房子,好像我们很有名似的。"
"Maybe we could all go somewhere else?" Lynne suggested. In the background, Erin was cursing and struggling her way into something yellow and green, most of the cursing regarding the lack of wing-slits in her old dress.
"也许我们都可以去别的地方?""Lynne建议。背景中,埃琳一边咒骂一边挣扎着挤进一件黄绿相间的衣服里,大部分咒骂都是针对她那件旧衣服上没有缝翼而发出的。
"Like where?"
"就像在哪里?"
"I don't… Oh! How about your cousin's farm? That's remote enough that the press won't be likely to show up."
"我不……哦!你表弟的农场怎么样?这个距离很遥远,媒体不太可能出现。"
"Ah, I don't know." John scratched at his beard. "I'm not sure that's a good idea."
"啊,我不知道。约翰搔着胡子。"我不确定这是不是个好主意。"
"Why not?" Lynne asked, glancing over at her daughter, who was doing an interesting little dance as she struggled to get dry cloth over her damp fur.
"为什么不呢?琳恩问,她看了女儿一眼,她的女儿正在跳一个有趣的小舞蹈,她正挣扎着把干布弄到她潮湿的毛皮上。
"I'm just not sure how the ponies would feel about seeing… well, horses and cows and stuff."
"我只是不确定小马看到……嗯,马和牛之类的东西会有什么感觉。"
His wife looked at him with a blank expression for a few seconds. "Well, we could just ask them instead of just assuming what they will and won't like, don't you think?" she asked. "They're adults, they don't need us to protect them."
他的妻子面无表情地看了他几秒钟。"嗯,我们可以直接问他们,而不是假设他们喜欢什么,不喜欢什么,你不觉得吗?""她问道。"他们是成年人,他们不需要我们来保护他们。"
John glanced over at Erin, who still had the dress stuck over her head, but who'd stopped struggling with it for a moment in order to listen to her mother.
约翰瞥了一眼艾琳,她的裙子还卡在头上,但她为了听妈妈说话已经停止了挣扎。
"Well," John said, "I guess it wouldn't hurt for Erin to just ask her friends. I'll ask Allie and Jim if they're interested. Pretty sure they would be. We should keep the date a secret, though."
"好吧,"约翰说,"我想艾琳问问她的朋友们也无妨。我去问问爱丽和吉姆他们是否有兴趣。肯定会的。不过,我们应该对约会保密。"
"The date for what?" Erin asked, finally rejoining her parents. Her mane was now a frizzled mess. Lynne rolled her eyes and walked back into the bathroom, returning a moment later with the hairbrush.
"什么日期?"艾琳问道,最后她回到了父母身边。她的鬃毛现在乱蓬蓬的。琳恩翻了翻眼睛,走回浴室,一会儿又拿着梳子回来了。
"The date that your pony friends visit. Your mom and I were thinking it might be nice if they visited the Mathers' farm."
"你的小马朋友来访的日子。你妈妈和我在想,要是他们去马瑟家的农场,那该有多好。"
"Jeeze, Dad, I haven't been there in ages." Erin sat down just outside her kitchenette area, a suspicious look coming into her eyes. "Hey, you didn't drink the last of my orange juice, did you?"
"哎呀,爸爸,我好久没去那儿了。艾琳在她的小厨房区域外坐了下来,眼睛里露出怀疑的神情。"嘿,你没有喝完我最后的橙汁,是吗?"
"There's still a little bit left," John replied, holding his hands up defensively. "So, uh… when are they opening that gateway, again?"
"还有一点,"约翰答道,同时举起双手进行防守。"那么,呃……他们什么时候再打开那扇门?"
"Day after tomorrow," Erin replied. "I sure hope all the stuff I ordered has arrived."
"后天。"艾琳回答。"我真希望我点的东西都到了。"
"What stuff?" Lynne asked.
"什么东西?"琳问道。
"Odds and ends, and some presents for my friends," Erin said, grinning. "That, and all of the equipment that Maggie ordered for my new place in Ponyville."
"一些零零碎碎的东西,还有给我朋友的礼物。"艾琳笑着说。"还有麦琪为我在波尼维尔的新家订购的所有设备。"
"Oh!" Lynne's hand flew up to her mouth. "Your first house, and it's in an entirely different world."
"哦!琳恩的手举到了嘴边。"你的第一所房子,它是一个完全不同的世界。"
John gently placed his arm around his wife's shoulders and drew her close, kissing her on the top of her head as they hugged.
约翰轻轻地搂着妻子的肩膀,把她搂得更紧了,他们拥抱的时候,他还亲吻了她的头顶。
"You'll send us pictures, right, kiddo?" he asked.
"你会给我们发照片的,对吧,孩子?""他问道。
"You bet! The drone relay between Canterlot and Ponyville is already set up, so you only have to wait until the next time the gateways are open." Erin frowned, scuffing a hoof along the floor. "Though, communications will be a lot easier once they get the Ponyville wifi network installed."
"你说的没错Canterlot和Ponyville之间的无人机中继已经设置好了,所以你只需要等到下一次网关打开的时候。艾琳皱起眉头,拖着蹄子在地板上走。"不过,一旦安装了波尼维尔的wifi网络,通讯就会容易得多。"
"How long will that be?" John asked.
"那要多长时间?""约翰问。
"Maggie said the technicians would come out the next time they open the gateway, assuming the Princesses are okay going back on a weekly schedule." Erin rolled her eyes and shrugged. "None of the techs we have contracts with are willing to be stuck on an alien world for a month, it seems."
麦琪说,如果公主们没有问题,下次打开大门的时候,技师们就会出来。艾琳转了转眼睛,耸了耸肩。"看起来,我们签约的技术人员都不愿意在一个陌生的世界里呆上一个月。"
John tried to put the fact that his only daughter would be vanishing through that portal to another world in a couple days' time. Instead, he fell on the one thing he knew best: being a dad.
约翰试着把他唯一的女儿将在几天后通过那个入口消失到另一个世界的事实。相反,他遇到了他最了解的一件事:当爸爸。
"Need any help getting all of that stuff organized, kiddo?" he asked.
"需要帮忙把这些东西整理一下吗,孩子?""他问道。
Erin smiled up at him gratefully. Pony or human, that smile could always melt his heart.
埃琳感激地朝他笑了笑。不管是矮种马还是人类,那微笑总能融化他的心。
"Thanks, Dad. I'd like that very much."
"谢谢,爸爸。我非常愿意。"
John smiled, relaxing a little bit. He might not be able to stop his little girl from leaving her home world, but just for now, he could still be Dad. It felt nice to be needed.
约翰笑了,放松了一点。他也许不能阻止他的小女孩离开她的家庭世界,但就目前而言,他仍然可以是父亲。被需要的感觉真好。
"Alright." He gave her mane a ruffle, much to Lynne's obvious annoyance. "Let's get started, shall we?"
"好吧。他给她的鬃毛打了个褶,这显然让琳恩很恼火。"我们开始吧,好吗?"
~~*~~
Erin couldn't help herself. She was dancing in place, an involuntary grin across her face as she looked longingly at the gateway to Equestria. She could sense the magic, flowing through like sunlight into the world, though she couldn't see it. Instead, it was almost like a sense of warmth, of comfort.
艾琳情不自禁。她在原地跳舞,脸上不由自主地露出了笑容,渴望地望着小马国的大门。她能感觉到魔法,像阳光一样流入这个世界,尽管她看不见它。相反,这几乎像是一种温暖、舒适的感觉。
"You seem excited," her mother said.
"你看起来很兴奋,"她妈妈说。
Erin glanced over, and some of her eagerness faded. Her mom had a look of mingled happiness and sadness on her face, causing a swell of guilt in Erin's chest. She'd been so happy to get going, so eager to try magic, that she'd forgotten that she was saying goodbye to her parents, probably for weeks.
埃琳扫了一眼,她的热情消退了一些。妈妈脸上的表情喜忧参半,这让艾琳的内心充满了愧疚。她很高兴能开始,那么渴望尝试魔法,她忘记了她要和她的父母说再见,可能有好几个星期了。
"Oh, Mom." She reared up on her back hooves, hugging her mother tightly as tears stung her eyes. "I'm going to miss you."
"哦,妈妈。"她用后腿直立起来,紧紧地抱住母亲,泪水刺痛了她的眼睛。"我会想你的。"
"Me too, sweetie." Her mother hugged back and started stroking Erin's mane.
"我也是,亲爱的。"她的母亲也紧紧地抱住她,开始抚摸艾琳的鬃毛。
Her father's face was solemn. "I'm gonna miss you too, kiddo."
她父亲的脸色很严肃。"我也会想你的,孩子。"
Erin gave him a smile, and then she turned to give him a hug as well. Eventually, she let go and dropped back to all four hooves.
艾琳对他笑了笑,然后转身也给了他一个拥抱。最后,她松开手,又回到四蹄下。
"I'll write," Erin promised, sniffling. "Just as soon as we get the wifi going, I'll write."
"我会写信的。"艾琳抽着鼻子保证道。"只要我们一接通wifi,我就会写。"
"We'll look forward to it." Lynne still had that sad smile.
"我们期待着。"琳恩仍然带着那种悲伤的微笑。
Her father cleared his throat. "You'd better get going, hon. You don't want to miss your train, and you said the Princesses wanted to talk to you before you left."
她父亲清了清嗓子。"你最好快走,亲爱的。你可不想错过火车,你还说过公主们想在你走之前和你谈谈。"
Erin nodded and wiped at her eyes with a foreleg. "I love you both, so much."
艾琳点点头,用前腿擦了擦眼睛。"我爱你们两个,非常爱。"
One last hug, her parents kneeling down this time to embrace their daughter. A final round of tearful goodbyes, though her father tried to pretend he wasn't crying. And then Erin turned, walking through the gateway and towards her new life in Equestria.
最后一次拥抱,她的父母这次跪下来拥抱他们的女儿。最后一轮含泪告别,尽管她的父亲试图假装自己没有哭。然后艾琳转身穿过大门,走向她在小马国的新生活。